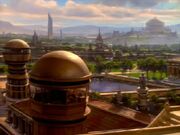 The Shikina Monastery was a historic building located in Ashalla on Bajor. It was a key site in the Bajoran religion that served as the Kai's residence. For several years during the Cardassian Occupation of Bajor, the Orb of Prophecy and Change was hidden in a secret chamber under the monastery.
In 2369, Benjamin Sisko went to meet Kai Opaka Sulan at the monastery, where she realized he was the Emissary of the Prophets. She also showed Sisko the Orb. (DS9 episode: "Emissary")
By 2376, all the Orbs of the Prophets had been recovered and were being stored in the same chamber. The monastery chamber was also the chosen spawning ground of a parasite spawnmother until an Orb experience initiated by Kira Nerys resulted in the spawnmother being thrown out of normal space time. The monastery was also the location where the parasites kept several hostages, including Kasidy Yates, who gave birth to her daughter Rebecca Jae Sisko there. (DS9 novel: Unity)
Not long after, Solis Tendren visited the Shikina Monastery and spent some time on the medication balcony overlooking the city. It was there Ranjen Opaka Sulan convinced him to continue his attempt to become the next Kai. (DS9 - Worlds of DS9 novel: Bajor: Fragments and Omens)
In 2381, Benjamin Sisko visited the Shikina Monastery to consult the Orb of Prophecy and Change. He encountered Kira Nerys in the gardens of the monastery. The Ascendant Raiq was based at the Shikina Monastery at the time. (ST - Typhon Pact novel: Rough Beasts of Empire)
The monastery first appeared in "Emissary" and was named in Bajor: Fragments and Omens.
Connections