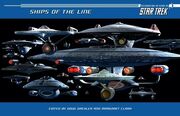 The Ships of the Line calendars are a series of Star Trek calendars which have been published by Pocket Books, Andrews McMeel Publishing and Universe Publishing since 2001. The calendars highlight the ships of all the Star Trek series' and movies in scenes from the episodes and films, alongside new scenarios and original starship designs in computer generated imagery, often utilizing the CGI models used to create the series' and films.
The 2005 calendar included the first (non-diagrammatical) image of the USS Enterprise-J and the 2006 calendar featured the first image of Rob Bonchune's Klingon D4-class (the 22nd century battlecruiser design that would have made it into "Unexpected" if the effects team had had the time). Later calendars included non-canon ships such as the Vesta-class USS Aventine, Merian-class USS Planck, Phalanx-class USS Repulse, and the mentioned-but-not-seen Luna-class USS Titan.
Most of the images from all the calendars (except the 2002 edition) up to and including 2007 were reprinted, with additional text by Michael Okuda, in a hardcover book; Ships of the Line, in 2006 as part of the celebration of Star Trek's 40th Anniversary. A second edition published in 2014 included many images from the 2008 to 2014 calendars.
Calendars
Appendices
Connections
External link