This article is about the reference series. You may be looking for shipyards.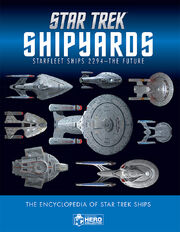 Star Trek Shipyards: The Encyclopedia of Star Trek Ships is a multi-volume in-universe reference work series which provides extensive detail on Star Trek starships ranging from the 20th century's Botany Bay to the 32nd century vessels seen in Star Trek: Discovery. Eaglemoss Collections launched the series through its Hero Collector imprint in 2018.
Publisher's description
Star Trek Shipyards is a series of lavishly illustrated books that provide in-universe profiles of Star Trek ships, building into the ultimate illustrated encyclopedia of Star Trek vessels. Each ship is profiled with technical information, operational history and plan view CG renders — wherever possible using the original VFX models that were used on the TV shows and movies.
Volumes
Appendices
External links