This article is about the Shrike-class starship. You may be looking for Shrike-class fighter.
The Shrike-class was a series of Romulan starships in Imperial Star Navy service around the time of the 24th century
Service history
A number of vessels of this class were in service with the Romulan Imperial Star Navy in the 2370s decade, and participated in the events surrounding the Borg Collective's two attempts at invading of the Alpha Quadrant in the years 2376 and 2377, as well as the events surrounding the starbase Unity One in 2379. (TNG video games: Armada, Armada II, Starfleet Command III)
Technical specifications
Depending on the outfitting of the individual vessel, these ships were classified as light cruisers or destroyers. They crewed 3 officers and 80 enlisted.
The small agile destroyer vessels were a favored craft of the Romulan intelligence service, the Tal Shiar. They were created for speed and stealth rather then attack capability that would be seen in bird-of-prey designs. As such, they were outfitted with a cloaking device allowing the ship to ferry Romulan agents into enemy space without being detected. It was further enhanced by a special transporter that would allow a successful transport to commence without lowering the cloak of the ship. These agents would then tap into the communication grid of enemy ships to uncover the location of all enemy forces.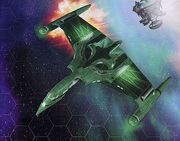 Finally, they were armed with a twin pair of plasma cannons to protect itself in combat or to use in raiding operations.
For whatever reasons, the Shrike-class vessels from TNG video games: Armada, Armada II differ in appearance from those in TNG video game: Starfleet Command III. It could be assumed that the two sets of vessels are of different modifications, possibly representing an additional class, type or subclass.
Known vessels
Appendices
Connections
Image gallery
Appearances