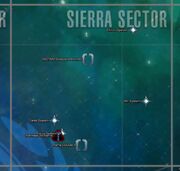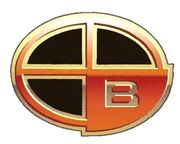 The Sierra sector was a region of space, the central sector of of the Alpha Centauri sector block, located in the galaxy's Beta Quadrant. Divided by the Romulan Neutral Zone, its territory was shared between the Romulan Star Empire and the United Federation of Planets. Starbase 39-Sierra was a major base of operations in this sector in the 25th century. (STO - Romulan Mystery mission: "Heading Out")
The sector shared its name with the Sierra star system, sites of Starbase 39-Sierra and the Sierra II Outpost. (STO - Romulan Mystery mission: "Minefield")
As one of three sectors of the Alpha Centauri sector block, the Sierra sector shared its spinward border with the Teneebia sector, and its anti-spinward side with the Vendor sector. (STO - Romulan Mystery mission: "Heading Out")
The coreward and rimward borders connected with the Hobus sector and Argelius sector, respectively. (STO - The Iconian War mission: "Uneasy Allies")
The Sierra class[1] Starbase 39-Sierra was in place by the year 2270. (STO - Agents of Yesterday mission: "Earthward Bound")
Following the supernova in 2387, Starfleet moved into the Chiron system and established an outpost on Chiron II to support Romulan colonies seeking to break away from the Romulan Star Empire. (STO - Romulan Mystery mission: "Friend of My Enemy")
In 2394, the colonists of Rhi III voted to break away from the empire but struggled to maintain independence.
Vice Admiral T'nae, an expert on Romulan affairs, headed SB39-Sierra in the 2400s decade. In the year 2409, Doctor Damar Kahn was ferried by Starfleet to T'nae's starbase to begin his investigation of the Hobus system. (STO - Romulan Mystery mission: "Heading Out")
Meanwhile, Starfleet patrolled the Rhi system and repelled incursions by the Romulan Tal Shiar. (STO - Romulan Mystery mission: "Rhi System Patrol")
The NGC 863 system was known for its subspace anomalies. In 2409, the Romulan Republic Navy dispatched a vessel there to capture an Elachi starship. The Navy ship secured "Target Alpha". (STO - Vengeance mission: "Turnabout")
A Navy crew then boarded "Target Alpha" and infiltrated the Elachi base Station Alpha in subspace. (STO - Vengeance mission: "Devil's Choice")
During the Klingon Civil War of 2411, House Mo'Kai opened a mycelial rift near the Romulan Republic Base Station R-88 in the Terrh system on the first day of the war in 2411. Tarsev of the awakened Elachi joined forces with the Romulan Republic to repel hostile Elachi forces. (STO - Klingon Civil War missions: "The Centre Cannot Hold", "Trouble over Terrh")
Community content is available under
CC-BY-SA
unless otherwise noted.