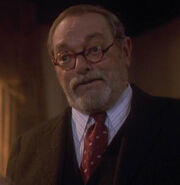 Sigmund Freud (May 6, 1856 - September 23, 1939) was an Austrian psychologist who lived on Earth during the 19th and 20th centuries.
Upon seeing Dr. Paul Manheim in person for the first time in 2365, Marion Dulmur felt that he resembled Freud. (DTI novel: Watching the Clock)
Data created a holographic version of Freud in 2370, from whom he sought psychoanalysis. (TNG episode: "Phantasms")
Manheim's alleged resemblance to Freud is an in-joke, referring to the fact that Rod Loomis played the psychologist in the 1989 time travel comedy film Bill & Ted's Excellent Adventure.[1]
Appendices
Edit
References
Edit
External links
Edit
Community content is available under
CC-BY-SA
unless otherwise noted.