For other uses, see Singha.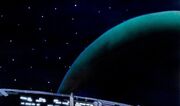 Singha was a location on the planet Bajor, in the Cardassian occupation the site of a refugee camp.
History and specifics
Kira Nerys grew up in Singha with her family and other Bajoran friends such as Istani Reyla. (DS9 - Avatar novel: Book One)
Based on Kira's birthplace and early life, it is likely Singha was in Dahkur Province.
Appendices
Connections
References
External link