"Soldiers of the Empire" was the 119th episode of Star Trek: Deep Space Nine, the 21st episode of the show's fifth season, first aired during the week of 29 April 1997. The episode was written by Ronald D. Moore and directed by LeVar Burton.
Worf and Jadzia Dax join Martok on a mission to find a missing Klingon warship.
References
Edit
Characters
Edit
Referenced only 

Curzon Dax • Mogh • Shovak
Locations
Edit
Referenced only 
Starships and vehicles
Edit
IKS B'Moth (K't'inga-class) • Danube-class runabout (in opening credits) • USS Defiant (Defiant-class escort) • Janitza-class (in opening credits) • USS Leeds (Nebula-class explorer, in opening credits) • Jem'Hadar fighter • IKS Rotarran (K'vort-class)
Races and cultures
Edit
Referenced only 
States and organizations
Edit
Referenced only 
Other references
Edit
alert status • artery • asteroid • autosuture • blood • bloodwine • bok-rat • bok-rat liver • cloaking device • combat log • general • holographic safety protocol • holosuite • kellicam • Klingonese • mahk-cha • ocular implant • Par'Mach'kai • phaser • phaser rifle • polaron • security clearance • sensor ghost • Starfleet uniform • Starfleet uniform (2373-2386) • tova'dok • Warrior's Anthem • Year of Kahless
Appendices
Edit
Related media
Edit
ST reference: Encyclopedia

Information about this episode is presented consistently in the third and fourth volumes.
Video releases
Edit
Background
Edit
Notable cast and crew
Edit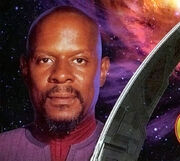 Connections
Edit
External links
Edit
Community content is available under
CC-BY-SA
unless otherwise noted.