A sonic screwdriver was an application of sonic technology, a type of engineer's tool used in and around the Federation in the 23rd and 24th centuries. (VAN novel: Harbinger; SCE eBooks: Wildfire, Book 1, Wildfire, Book 2)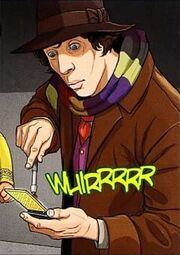 The Doctor's sonic screwdriver had a wide variety of functions. He used an earlier model to pick an electronic lock, remotely close a door, and even to disintegrate the gold cover of a Starfleet communicator to create a handful of gold dust to disable a Cyberman. (TNG - Assimilation² comic: "Issue 3") With a later model, he was able to locate an alien creature and break a wooden pole. (TNG - Assimilation² comic: "Issue 1") He also used it to to override the control wavelength of a Cogenian sentry drone, and later switch it back on. (TNG - Assimilation² comic: "Issue 4")
As this sonic screwdriver is a product of Time Lord technology, and hails from their universe, it is possible that the Doctor's sonic screwdriver is much more powerful and has more functions than the sonic screwdrivers seen in the Star Trek standard universe. The Doctor's sonic screwdriver has also changed several times and gained new powers over the course of the Doctor Who series.
The Doctor possessed a sonic screwdriver, which he used for many purposes throughout his life. (TNG - Assimilation² comics: "Issue 1", "Issue 3", "Issue 4")
Cervantes Quinn once stole a sonic screwdriver from "a rather daft chap" on Barolia, prior to 2265 (VAN novel: Harbinger).
A loose sonic screwdriver floated around the shuttlecraft Ellington when it experienced zero gravity in 2380. (TTN novel: Sword of Damocles)
It was part of the emergency tool kit that the USS Amazon carried. Julian Bashir used it and forgot to put back, so when Jadzia Dax was looking for it, she found it in the last places he was. She then used it to replace a burnt out crystal in the communication console. (DS9 novel: Devil in the Sky)
Previous references to and appearances of a sonic screwdriver were evidently a "tip of the hat" to the BBC series Doctor Who, as the Doctor often makes use of a multi-purpose device of the same name. The Doctor's own sonic screwdriver formally appeared in the Star Trek universe in the TNG comic: "Assimilation²".
Community content is available under
CC-BY-SA
unless otherwise noted.