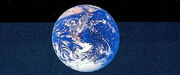 South America is a continent on planet Earth. The continent is mostly located on Earth's southern hemisphere.
When participating in Dixon Hill holodeck programs, Lieutenant Commander Data claimed to have come from South America as a means of explaining his appearance to holodeck characters. (TNG episodes: "The Big Goodbye", "Manhunt")
In 2359, Mark Johnson was part of a philosophical symposium based in South America called the Questor Group. During his time there, Johnson frequented a tennis club in Curitiba. (VOY novel: Mosaic)
Community content is available under
CC-BY-SA
unless otherwise noted.