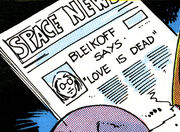 Space News was a newspaper, a news and information publication in the 23rd century.
History
In 2266, Space News covered Alfred Bleikoff's first press conference on Earth following his revival aboard the USS Enterprise. The headline "Bleikoff Says Love Is Dead" on the front page announced their coverage of the revived 20th century pacifist's initial impressions of life in the 23rd century, in which he said he felt that there was an absence of warmth among humanity. (TOS comic: "Prophet of Peace")
Appendices
Background
A real-world SpaceNews was launched in 1989.
Reference
Connections
External link