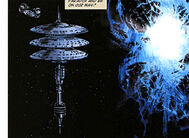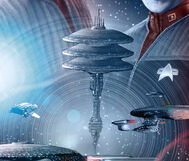 Space Station Bravo (or Bravo Station) was a Helios-class Federation facility located on the edge of the New Thallonian Protectorate in the years following the war with the Selelvians and the Tholian Assembly. Space Station Bravo had a reputation as being one of the best repair facilities in the region.
Space Station Bravo's first commanding officer was Admiral Frank Kittinger, who came to see the station as his "baby".
In 2379, after Kittinger's retirement, command of Space Station Bravo was given to the newly-promoted Admiral Elizabeth Shelby. (NF novels: After the Fall, Missing in Action; NF - The Captain's Table short story: "Pain Management")
Ensign Galeckas was stationed on Bravo Station. (TNG novel: Q & A)
Watchtower-class starbase space stations
Federation, Starfleet
(primary universe)
Fleet Setup Station • Starbase 6 • Starbase 47 Vanguard • Starbase 91 • unnamed Watchtower class space stations


Helios-subclass: Jupiter Station (variant) • Robert Hooke Research Station • Space Station Bravo (variant)

Terran Empire Starfleet
(mirror universe)
Imperial Starbase 47 Vanguard
Community content is available under
CC-BY-SA
unless otherwise noted.