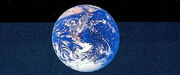 Spain was a nation-state on the planet Earth, located on the European continent. The capital of this nation-state was Madrid.
Spain was a leader in global exploration and expansionism, beginning in the 15th century. The most famous early Spanish voyage was Christopher Columbus's successful journey across the Atlantic Ocean to the islands of North America. Numerous colonies were established on both North and South America, the Pacific Ocean, and in Asia, with Spanish warrior/explorers, called Conquistadors, putting down the indigenous peoples and cultures, including the Aztecs and other Native American tribes.
The early Spanish Empire also attempted to use their political power to enforce Catholic Christian teachings and belief, through an ecclesiastical council called the Spanish Inquisition. Centuries later, Q would comment that Earth was less dull during the Spanish Inquisition. (DS9 episode: "Q-Less")
In 1680, the tribes of what later became New Mexico rose up against their Spanish rulers, in what was called the Pueblo Revolt. The Spanish reconquered the Pueblos several years later; among the troops participating in this brutal reprisal was Javier Maribona-Picard, an ancestor of Starfleet Captain Jean-Luc Picard. (TNG episode: "Journey's End")
In the 20th century, Spain was a founding member of the European Space Agency. (ENT episode: "First Flight")
Spain was presumably a member of the European Hegemony, as a colony ship launched in the 22nd century, the SS Mariposa, bore a Spanish language name. (TNG episode: "Up the Long Ladder")
Community content is available under
CC-BY-SA
unless otherwise noted.