For other uses, see Spectre.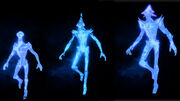 Spectres, originally called The Devidians, is a story-arc episode, a chain of cross-faction missions in Star Trek Online. The player participates in an effort by their Intelligence contact to stop the Devidians from harvesting residents and personnel of Drozana Station across two centuries. It was released weekly, starting from 16 October 2010, as part of Season 4: "Ancient Enemies".
It was considered a "feature episode" and follows the previously released first feature episode "Cold War" story arc, which had introduced the concept.
Blurb
The ghosts of past threaten life as we know it. Will you be able to solve the mystery in time?
List of missions
"

Spectres

"
"

Skirmish

"
"

What Lies Beneath

"
"

Everything Old is New

"
Related content
"

Traelus System - Satellite Repair

"
"

Sh'mar - Distress Call

"
"

Defense Contract

"
"

Salvage Dispute

"
Appendices
Connections
External links