For other uses, see Sphinx.
The Sphinx Workpod Type M1 was a type of workpod, a small Federation industrial manipulator in service during the 24th century. The main production base for these craft was Starfleet Plant #2, Utopia Planitia Fleet Yards, Mars. They were routinely carried aboard Galaxy-class starships. (TNG references: Star Trek: The Next Generation Technical Manual, USS Enterprise Owners' Workshop Manual)
Specifications
[
]
In its standard configuration, Type M1, the Sphinx workpod was classed as an industrial manipulator and was operated by one pilot. It was equipped with two 4,600 Newton-second Isp microfusion primary thrusters which gave it a maximum speed of 2,000 meters per second, sixteen DeBE 3453 hot gas RCS thrusters, and four alfinium krellide power storage cells. It had a mass of 1.2 metric tonnes, a maximum manipulator mass of 2.3 metric tonnes, and with a sled attached, a maximum sled mass of 4.5 metric tonnes. (TNG reference: Star Trek: The Next Generation Technical Manual)
Other configurations
[
]
Type M1A
[
]
The Sphinx M1A workpod was classed as a light industrial manipulator.
Type M2A
[
]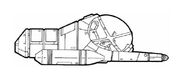 The Sphinx M2A was classed as a medium industrial manipulator.
Type MT3D
[
]
The Sphinx MT3D was a medium tug, and could accommodate two crewmembers, a pilot and a cargo specialist. (TNG reference: Star Trek: The Next Generation Technical Manual)
References
[
]