The complete atlas of Star Trek—Star Charts is the cartographer's guide to the Star Trek universe, containing star charts of the United Federation of Planets, the Klingon Empire, the Romulan Star Empire, and all of the empires and planets across the Alpha, Beta, Gamma, and Delta Quadrants.
Description
"...all I ask is a tall ship, and a star to steer her by."—Poet John Masefield.
From the earliest days of explorations, there has always been one tried-and-true way to navigate through uncharted reaches and one to find the way home—the stars. Ancient mariners prized their star charts, knowing that they could guide them safely into a friendly port or lead them to the reaches of the mysterious East. Modes of transportation have changed, but the stars are still our constant guides. When man took his first step into space armed with the very latest in computers, he took with him the same tool for reading the stars that the men who sailed under canvas carried.
When humans launched the first ship designed for long-range missions into the deep waters of interstellar space, the Vulcan High Command provided their star charts to the Enterprise (NX-01). But Jonathan Archer was not content with relying on the known. Although he used the Vulcan charts, he also added to them, and greatly expanded Starfleet's knowledge of the galaxy. Every generation of starship captain that followed has built on Archer's first steps.
Credits
Written and illustrated by Geoffrey Mandel
Contributors: Doug Drexler, Tim Earls, Larry Nemecek, and Christian Rühl
Technical advisors: André Bormanis, Michael Okuda, Timo Saloneimi, and Rick Sternbach
In addition to the official credits, Mandel names several contributors and inspirations in his acknowledgments: Gene Roddenberry, Rick Berman, Brannon Braga, Michael Piller, Jeri Taylor, Robert H. Justman, Gene L. Coon, D.C. Fontana, Herman Zimmerman, Richard James, Craig Binkley, Tony Bro, Louise Dorton, Wendy Drapanas, David Duncan, Tim Earls, John Eaves, Monica Fedrick, Gay Harvey, Berndt Heidmann, Jim Martin, Jim Mees, Anna Packer, Lisa Rich, Rick Sternbach, Jim Van Over, Fritz Zimmerman, Merri Howard, Brad Yacobian, Ben Betts, André Bormanis, Steve D'Errico, Scott Herbertson, Penny Juday, Laura Richarz, Andrew Reeder, Dave Rossi, Lee Cole, Mike Minor, Doug Drexler, Michael Okuda, Anthony Fredrickson, Larry Nemecek, Paul Newitt, Leonard Sulogowski, Ron Barlow, Jeff Maynard, Margaret Clark, Christian Rühl, D. Joseph Creighton, Manoel L. Gouveia, Steven Sigley, Shane Johnson, Bjo Trimble, Franz Joseph, Peter Mandel, Jenny Mandel, Kathy Mandel, Adam Deixel, Isabel Deixel, Sophie Deixel, Adina Lerner, Marian Taylor, and Joe Bauer.
Table of Contents
References
Characters
Locations
Planetary settlements and landmarks
Stations and outposts
Planets
Alpha Quadrant planets and planetoids
Beta Quadrant planets and planetoids
Delta Quadrant planets and planetoids
Gamma Quadrant planets and planetoids
Stars and systems
Alpha Quadrant stars and systems
Beta Quadrant stars and systems
Delta Quadrant stars and systems
Gamma Quadrant stars and systems
Stellar regions
Sectors and subquadrant regions
Astronomical landmarks
Races and cultures
States and organizations
Planetary classification
Starships and vehicles
Other references
Chronology
500,000 years ago

c. 2079
Diplomatic relations established between Tholia and the Federation (36)

Cestust III Colony

is resettled by Humans and Gorn according to treaty. Cestus III is admitted to the Federation (52)
V'Ger travels towards Earth (39)
The border of the Cardassian Union extends into Bajoran space (47)
The SS Santa Maria travels to Orellius (47)
Launch of USS Enterprise-D, from Utopia Planitia Fleet Yards (39)
USS Enterprise-D transported 7,000 light-years to FGC J25; first contact with Borg (13)
Ferengi shuttle travels to Delta Quadrant through Barzan wormhole (13)
The Demilitarized Zone is established (47)
USS Voyager transported 70,000 light-years to Delta Quadrant by the

Caretaker's array

(13)
USS Voyager returns to Alpha Quadrant through Borg transwarp conduit
Appendices
Images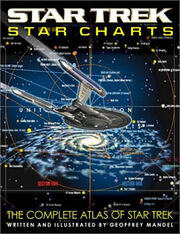 Logos and insignia
Star maps
Planets and objects
External link