For other uses, see Destiny.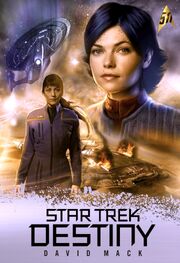 Star Trek: Destiny is a trilogy of novels by David Mack released late in 2008.
Description
The series is a crossover featuring elements from Star Trek's: The Next Generation, Titan, Deep Space Nine, Voyager and "elements from Trek's past" (referencing Star Trek: Enterprise'), "coming together in an ambitious tale that will shape the future of the Star Trek universe".
The trilogy also features the Bacco administration from the novel Articles of the Federation, and makes references to the crews of the USS Excalibur from Star Trek: New Frontier, and the USS da Vinci from the Corps of Engineers series.
The trilogy is a continuation of the arc of Borg stories begun in the TNG relaunch, set in February of 2381 following the events of the TNG novel: Greater Than the Sum. The story also draws inspiration from an image from the 2007 Ships of the Line calendar which showed the wreckage of the Columbia (NX-02) being inspected by 24th century Starfleet personnel.
The trilogy has a significant impact on the Star Trek universe, which is followed up on in four subsequent books: A Singular Destiny by Keith R.A. DeCandido, deals with the political fallout of the trilogy; Full Circle by Kirsten Beyer, which fills in the gap between the previous Voyager novel Enemy of My Enemy and Destiny and establishes a new direction for that series; Over a Torrent Sea by Christopher L. Bennett, in which the Titan crew return to their mission of exploration; and Losing the Peace by William Leisner, a TNG novel dealing with the immediate aftermath within the Federation. Rough Beasts of Empire begins at the end of the series, and reveals where Benjamin Sisko was during the invasion.
Novels
Translations
German language editions by Cross Cult
Appendices
Images
Connections
External link