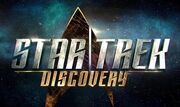 The first season of Star Trek: Discovery was produced and released in 2017 and 2018.
History
[
]
Star Trek: Discovery season 1 premiere DSC episode: "The Vulcan Hello" was released on 24 September 2017 on the CBS All Access viewing service alongside a traditional television broadcast on the CBS network. This episode was written by Bryan Fuller, Akiva Goldsman and Alex Kurtzman and directed by David Semel. This episode was the first original Star Trek television production by CBS, and the first Star Trek episode in 12 years following the finale of Star Trek: Enterprise in 2005, and the last Star Trek episode to be broadcast on American television. "Battle at the Binary Stars", the second episode, was released immediately after, exclusively on CBS All Access. The second episode was the first Star Trek episode which was not broadcast (in the USA) in any manner, made available for streaming service subscribers only. In Canada, this episode was broadcast on SPACE immediately following "The Vulcan Hello". Overseas viewers had the episodes available to them on Netflix.
The first season was produced in two "chapters" with a hiatus between. Following the two pilot episodes, the first chapter was a seven episode introduction to the ship and major cast members, while the second chapter comprised six episodes focused on the mirror universe, with a return to resolve the first chapter's storyline in the finale episodes.
DSC season 2 was announced following the season 1 finale, which had a cliffhanger reception of a distress call from Captain Christopher Pike aboard the USS Enterprise.
Episodes
[
]
Comics set during the first season
[
]
Appendices
[
]
Images
[
]
Publicity photos
[
]
Connections
[
]
External Link
[
]
Star Trek: Discovery season 1 article at Memory Alpha, the wiki for canon Star Trek.