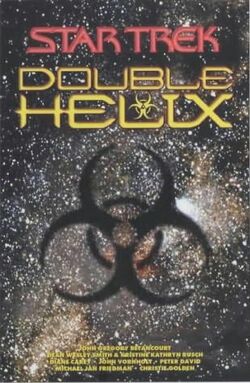 Star Trek: Double Helix was a miniseries of novels published in 1999. An omnibus edition was published in 2002.
Summary
Like a strand of mutating DNA, a deadly conspiracy winds its way through the Alpha Quadrant, even as it stretches across several years of Starfleet history. This special volume contains the entire bestselling saga - by some of Star Trek's most popular authors.
Infection by John Gregory Betancourt
Deanna Troi's life is endangered by a mysterious plague that threatens to spread throughout the Federation and beyond!
Vectors by Dean Wesley Smith and Kristine Kathryn Rusch
On the Cardassian space station known as Terok Nor, Dr. Katherine Pulaski struggles to heal the planet Bajor!
An elderly Dr. McCoy reunites with Ambassador Spock to save the Romulan royal family -- and a new generation!
Lieutenant Tom Riker joins forces with the outlaw Maquis to rescue a world in peril!
Double or Nothing by Peter David
Along with Captain Mackenzie Calhoun of the USS Excalibur, Jean-Luc Picard tracks the deadly contagion to its source!
The First Virtue by Michael Jan Friedman and Christie Golden
Years before commanding the USS Enterprise, a young Picard must prevent a war -- and witness the secret origin of a diabolical threat that would someday menace all he cares for!
Contents
Appendices
Connections
External link