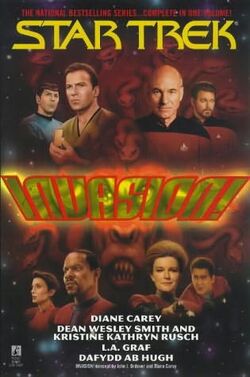 Star Trek: Invasion! was a miniseries of novels published in 1996. The four volumes were later collected into an omnibus edition and was published in 1998.
This mini-series is not to be confused with the video game: Invasion.
Publishers description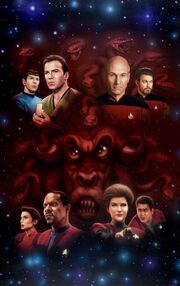 The ultimate Star Trek saga, spanning four thrilling adventures!
Long ago, even before the days of myth and legend, our world belonged to them. Now, across time and space, comes a fury that will test every one of Starfleet's greatest heroes...
Star Trek - First Strike by Diane Carey
The Invasion begins when Captain James T. Kirk receives a desperate plea for help from the Klingon Empire. A mysterious starship has invaded Klingon space, but the worst is yet to come as Kirk discovers that this ship is only the vanguard of a vast alien fleet intent on conquering the entire Alpha Quadrant!
Star Trek: The Next Generation - The Soldiers of Fear by Dean Wesley Smith and Kristine Kathryn Rusch
After a century of peace, the Furies return, more powerful than before. Now their arsenal includes a way to project incapacitating fear into the minds of their enemies. To defeat the enemy and save the Federation, Captain Jean-Luc Picard and his crew must first conquer the darkest terrors of their own unconscious minds!
Star Trek: Deep Space Nine - Time's Enemy by L.A. Graf
Millennia ago, the Furies were first driven from the Alpha Quadrant, but what became of the enemy that drove them out? The answer may lie in a mysterious starship found frozen in an icy cloud of cometary debris. Now Captain Benjamin Sisko must discover the secrets of the past to ensure the future of the Federation!
Star Trek: Voyager - The Final Fury by Dafydd ab Hugh
Far from the Federation, now under assault by the Furies, Captain Kathryn Janeway discovers the very source of the Invasion itself. Now, at last, USS Voyager takes the battle to the enemy -- for the sake of a home they may never see again!
Collected at last...the bestselling Star Trek epic of all time!
Contents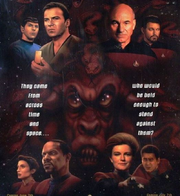 Appendices
Images
Connections
External link