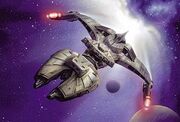 Star Trek: IKS Gorkon was a book series created by Keith R.A. DeCandido, chronicling the adventures of Captain Klag of the Klingon Defense Force ship IKS Gorkon. The ship and much of its crew were introduced in the novel Diplomatic Implausibility, and also appeared in The Brave and the Bold, prior to the launch of its own series.
The series was retitled Star Trek: Klingon Empire for its fourth novel, A Burning House, allowing story-telling to be opened up and to explore more of the Klingon Empire, though still through the eyes of the Gorkon crew.
Characters
Novels
(all by DeCandido)
Other Works
Community content is available under
CC-BY-SA
unless otherwise noted.