---
Spoiler warning:
Plot and/or ending details follow: The following content contains spoilers!
---
Star Trek: Picard is a Star Trek television series, released via subscription on CBS All Access in 2020.
Overview
The initial announcement of the series only mentioned the initial format and did not describe any setting or subtitle for the show, which would be the second televised Star Trek series to be released by CBS. The first info about the series came from Patrick Stewart, celebrating his return to the role of Jean-Luc Picard. A subsequent trailer for the series was released in May 2019, with the title Star Trek Picard.
Episodes
Star Trek Picard's first season premiered on

CBS All Access

on 23 January, 2020. Subsequent seasons streamed on

Paramount+

, which was the re-branded version of CBS All Access.
"Remembrance" • "Maps and Legends" • "The End is the Beginning" • "Absolute Candor" • "Stardust City Rag" • "The Impossible Box" • "Nepenthe" • "Broken Pieces" • "Et in Arcadia Ego"
"The Star Gazer" • "Penance" • "Assimilation" • "Watcher" • "Fly Me to the Moon" • "Two of One" • "Monsters" • "Mercy" • "Hide and Seek" • "Farewell"

Season 3

Announced for later 2022/2023
Publications
Audio dramas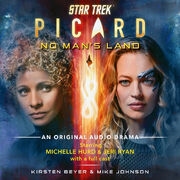 Comics
Novels
Cast
Appendices
Connections
External link