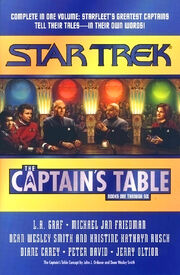 Star Trek: The Captain's Table is a Star Trek crossover miniseries developed by Dean Wesley Smith and John J. Ordover. There were originally six novels published in 2000 (later reprinted in omnibus form as The Captain's Table Omnibus), and one anthology, Tales from the Captain's Table was released in 2005.
The stories of this miniseries are told in the first person by whichever captain is the focus of the story. These usually unfold when the captain discovers a mysterious door to the supernatural bar The Captain's Table, which seems to transcend space and time. They then proceed to tell their stories as the cost for a drink. The miniseries is met with mixed reviews, as while Once Burned and Fire Ship are often cited as fan favorites, others are found to be lacking.
Also interesting is that the authors of the miniseries are all depicted on the cover art of one of the novels in the miniseries.
The Captain's Table Miniseries
Appendices
Images
Connections
External link