An omnibus of highlights from the first three Star Trek: The Manga volumes of TokyoPop's series of TOS manga comics.
Description
From the back cover 

Embark on the Ultimate Adventure with the original crew of the Starship Enterprise...
Selected by the fans themselves, this collection features only the very best stories from the first three volumes of the Star Trek manga anthology series. Among them, tales written by such Star Trek luminaries as David Gerrold, writer of the classic episode "The Trouble With Tribbles" and Wil Wheaton, (aka Wesley Crusher) from the Star Trek: The Next Generation series. Plus, a 28-page sneak preview of the story "Sensation" from the upcoming Star Trek: The Next Generation manga!
Also included in this volume – 16 previously black-and-white pages now in brilliant full color, as well as a pull-out poster featuring the amazing cover art of

Michael Kelleher

!
Contents
Writer: Chris Dows
Artist: Makoto Nakatsuka
Writer:

Paul Benjamin

Artist:

Steven Cummings
Writer: Wil Wheaton
Artist: E.J. Su
Writer:

Rob Tokar

Artist: E.J. Su
Writer: Christine Boylan
Artist: Bettina Kurkoski
Writer: Luis Reyes
Artist:

Nate Wilson
Writer: Mike W. Barr
Artist:

Jeong Mo Yang
Writer: David Gerrold
Artist: Don Hudson
Writer: Diane Duane
Artist:

Chrissy Delk
Appendices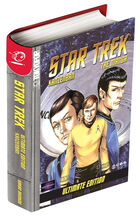 Timeline
External links