TNG season 8 redirects here. For a list of actual TNG seasons, see Star Trek: The Next Generation.
Star Trek: The Next Generation: Warped - An Engaging Guide to the Never-Aired 8th Season is a licensed parody book that includes summaries of 26 imaginary episodes from TNG's non-existent 8th season.
Description
In the basement of the Star Trek archives, behind shelves of USS Enterprise NCC-1701-D models, bags of wigs, and bins of plastic phasers, sits a dusty cardboard box. Inside is a pile of VHS tapes that contain never-before-seen episodes and behind-the-scenes footage for something truly amazing. The world thinks there are only seven seasons of Star Trek: The Next Generation, but there's one more. A secret season.
Actually, not really. But that didn't stop Mike McMahan, creator of the parody Twitter account @TNG_S8, from making a guide full of:
REAL* TNG SEASON 8 FACTS AND STORIES!
REAL* TNG SEASON 8 DIALOGUE AND IMAGES!
(* Again, not really, of course. This is humor. Sorry.)
Episodes
Crushers Not Included
Wesley Crusher and the Traveler are captured by the Borg and used as batteries. The encounter with the Borg causes a malfunction with the Enterprise power systems, and William T. Riker's

blouse

malfunctions.

Characters

Beverly Crusher • Wesley Crusher • Captain Jean-Luc Picard • William T. Riker • The Traveler • Counselor Deanna Troi

Starships and vehicles

Races and cultures

Other references

asteroid •

blouse

•

cherry

•

chocolate chip

• energy • headache • ice cream • ice cream sundae •

LuxComfort Ultra Blouse

•

meditation

•

mint chocolate chip ice cream

• red alert •

rocky road ice cream

• sensor • space • starship factory •

sugar cone

•

waffle cone

• waffle cone sundae • yoga

Background

Interpreting this chapter's stardate using the basic rubric provided in the Star Trek Chronology places this story late in the year 2370.
---
Lecture Circuits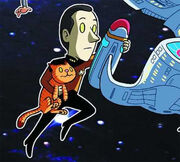 Episode 08-002, pages 10–18, stardate 47999.5

Characters

Data •

Ebra

•

Exocomp 77

• Hover Car •

Hargon

•

Linda

• Jean-Luc Picard •

Plimp

•

Rad

• William T. Riker •

Christoph Westlake

•

chatty birch

•

five-legged alien bear

Starships and vehicles

Locations

Blood Worm Awareness Conference Hall

• Earth •

Runyan 8

• Starfleet Academy •

Serengeti 5

(referenced)

Races and cultures

Other references

degenerative facial asymmetry disorder

• Khitomer Massacre •

Two's Company, Three's a Crowd

•

π Is the Ratio of a Circle's Circumference to Its Diameter

•

Your Mother Hates Me

• Iliad
---
Suggested Donation of Danger
Episode 08-003, pages 19-30, stardate 48015.1

Characters

Strongest Brian

•

Sweet Conrad

• Beverly Crusher • Data • Geordi La Forge • Gary Mitchell • Alyssa Ogawa • Jean-Luc Picard • William T. Riker •

Big Shakespeare

•

Gregory St. Beard II

•

Brave Steven

•

Tuk the Destroyer

•

Qorpo w'Ark

• Worf •

Zizz the Destroyer

Referenced only

Starships and vehicles

Locations

Brodo-5

•

Hall of Amazing Men

• Marmullian Zacow •

Museum of Museum Studies

•

Museumtucky

•

New Museum

•

Realistic Forest

•

University of Museum

Referenced only

Brodo-6

•

Equatorial Food Court Island

•

Fireworks Museum

•

Great Barrier Coat Room

•

Gift Shop Island

•

Icy Parking Lots of the North

Races and cultures

States and organizations

Other references
---
Hair of the Synthadog
Episode 08-004, pages 31-44, stardate 48017.3

Characters

Beverly Crusher • Data •

Girtroy

• Guinan • Geordi La Forge • Jean-Luc Picard • Deanna Troi •

Mzzk queen

Referenced only

Wesley Crusher •

David Krrgvanimanpon

• Worf

Starships and vehicles

USS Enterprise-D (Galaxy-class) •

Romulan patrol ship

Locations

Jessica 8

• Jessica system

Referenced only

Mzzk

Races and cultures

Referenced only

Pigmalinite

States and organizations

Broheims

Other references

Buffer Buster

•

Cardassian Spy

• Ceti eel • Dirt beer •

Edward 40 Hands

•

Eugenic War

•

Flaxian Flu

•

Grabarian potato

•

The Grouchy Bynar

• moon •

Mzzk ant

•

Paradise Snare

•

Pulaski's Drink

•

Qo'noS CoolatA

•

Regulan Shuttle Bomb

•

Risky Maneuver

• Romulan ale • sandwich •

Spin the Bottle of Punching

•

Tribble Maneuver

• Vulcan ale • Warp core breach (beverage) •

Yesterday's Tomorrow Today
---
I Only Have Mitochondria for You
Episode 08-005, pages 45-53, stardate 48022.3

Characters

Beverly Crusher • Jean-Luc Picard • William T. Riker •

sentient virus

Referenced only

Starships and vehicles

Locations

Races and cultures

Human •

sentient virus
---
Transporter Madness
Episode 08-006, pages 54-64, stardate 48035.3

Characters

Beckett

• Wesley Crusher • Data • Jean-Luc Picard • William T. Riker •

Ridley Roiland

• Spot • Worf

Referenced only

Starships and vehicles

Locations

Referenced only

Arrar sector

• Gamma Quadrant

Races and cultures

Other references
---
Quantum Dolphins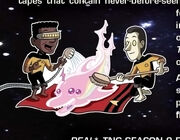 Episode 08-007, pages 65-77, stardate 48115.7

Characters

Beverly Crusher • Wesley Crusher • Data • Guinan • Geordi La Forge •

Pho

• Jean-Luc Picard •

Wade

•

dolphin judge

Referenced only

Butternut

• Q • William T. Riker • The Traveler • Deanna Troi • Worf

Starships and vehicles

Locations

Referenced only

Aquatics bay

• Cetacean ops

Races and cultures

Referenced only

Boof

•

GiKwari

•

Hoovo

Other references

cocoa

•

Great Chumming Machine

•

hockey

•

horizontal space rainbow

•

quantum wine
---
Rikerworld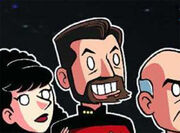 Episode 08-008, pages 78-84, stardate 48118.9

Characters

Starships and vehicles

Locations

Manly Mines

•

Rastogan-12

• sickbay •

Swagger Cathedral

Races and cultures

Other references

beardgrass

• jazz •

microscopic Riker

•

Riker bat

•

Riker horse
---
The Final Sale Frontier
Episode 08-009, pages 85-94, stardate 48121.2

Characters

Johann Sebastian Bach (hologram) • Wesley Crusher • Data •

EnyonK

• Geordi La Forge • Miles O'Brien • Jean-Luc Picard • William T. Riker •

WhitnE

Referenced only

Starships and vehicles

Locations

Brittney's

• holodeck

Referenced only

Canyons of Trajdor

• Deep Space 9 •

Villia

Races and cultures

Referenced only

Other references

Kolinahr •

Logic Lice

•

Mzzk ant

•

nanogoo stir stick

•

The Savage Curtain (song)

• yamok sauce
---
Deadly Cadence
Episode 08-010, pages 95-106, stardate 48125.6

Characters

Beverly Crusher • Data •

Gla'ar

• Geordi La Forge • Jean-Luc Picard • William T. Riker • Deanna Troi • Worf •

Tangorian wasp

Referenced only

Geoffrey Chaucer •

G'Trok

•

Kar'Mar

• Mark Twain

Starships and vehicles

Locations

Luvu

Referenced only

Races and cultures

Other references

bat'leth •

BMW

•

Cortack Blood

•

kut'luch

•

rollerblades
---
Fertile Ground
Episode 08-011, pages 107-118, stardate 48126.9

Characters

Antoinette

• Beverly Crusher • Data • Geordi La Forge • Jean-Luc Picard • William T. Riker •

caterpillar-esque creature

•

mouse-like alien

Referenced only

Starships and vehicles

Locations

deck 25

•

hydroponics bay

Races and cultures

Referenced only

Other references

black hole •

graviton beam

• katana • Khitomer Accords • tachyon emitter
---
White Face Paint and Black Tubing
Episode 08-012, pages 119-127, stardate 48128.1

Characters

Wesley Crusher •

Iowa (horse)

• Geordi La Forge • Jean-Luc Picard • William T. Riker

Referenced only

Starships and vehicles

Locations

battle bridge •

Gambier 5

• Ten-Forward • turbolift

Races and cultures

Referenced only
---
The Lowest Decks
Episode 08-013, pages 129-138, stardate 48128.8

Characters

Franklin

• Geordi La Forge •

Lydia

• Worf

Referenced only

Starships and vehicles

Referenced only

Locations

Deck 43

Races and cultures

Referenced only

Other references
---
Terror-forming
Episode 08-014, pages 139-147, stardate 48136.3

Characters

Wesley Crusher • Data • Geordi La Forge • Jean-Luc Picard • William T. Riker •

Willis

• Worf •

Zachary (dolphin)

Starships and vehicles

Locations

Hupyria (planet) •

Naldoar Prime

Races and cultures

Referenced only

Other references

beetle shack

• Genesis Device
---
Barclay's Day
Episode 08-015, pages 148-159, stardate 48137.1

Characters

Reginald Barclay •

California Steve

• Jean-Luc Picard • Q •

baby space snakes

Starships and vehicles

Locations

Races and cultures

Other references

environmental suit •

Gazorpazorpian caterpillar

•

holodeck arch

• replicator •

sauna

• shield emitter • turbolift
---
Predators
Episode 08-016, pages 160-166, stardate 48138.4

Characters

Wesley Crusher • Data • Homn • Jean-Luc Picard • William Riker • Deanna Troi • Lwaxana Troi •

VelociRiker

• Worf

Referenced only

Starships and vehicles

Locations

Referenced only

Races and cultures

Referenced only

Other references

Tavnian buzzard

• tennis
---
Icy Hot
Episode 08-017, pages 167-175, stardate 48139.6

Characters

Wesley Crusher • Data •

Fargon

• Geordi La Forge • Jean-Luc Picard • William Riker •

Vick

Starships and vehicles

Locations

Porp

• bridge

Races and cultures

Other references

antiproton beam •

distortion wave

•

gravitic sensor net

•

Lower Decks Challenge

•

metaphasic sweep

• Mok'bara •

quantum beacon

•

sensor echo

•

Suicide (beverage)

•

tachyon detection grid

• tetryon
---
Hippocratic Style
Episode 08-018, pages 176-184, stardate 48139.9

Characters

Chezzer

• Beverly Crusher • Wesley Crusher • Data •

Gorlip

• Korpo •

Kupow Triplets

• Geordi La Forge • Jean-Luc Picard • Worf •

Laaperian hawk

Referenced only

Brooke

Starships and vehicles

Locations

Marmi

• Ten-Forward

Races and cultures

Referenced only

Other references

bat'leth • dilithium • Hippocratic Style • positronic brain •

Silver Spoon syndicate

• VISOR
---
Tashayarasha Tyar
Episode 08-019, pages 187-196, stardate 48140.2

Characters

Beverly Crusher • Wesley Crusher • Data •

Picariketroi LaCrusher

• Geordi La Forge • Jean-Luc Picard • William Riker • Deanna Troi • Worf •

Tashayarasha Tyar

• Tasha Yar

Referenced only

Starships and vehicles

Locations

Referenced only

Races and cultures
---
Son of a Mogh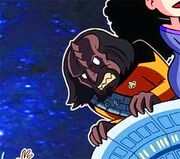 Episode 08-020, pages 197-205, stardate 48155.7

Characters

Angelikar Cavallo

• Wesley Crusher • Data • Jean-Luc Picard • Worf •

cyber crabs

Starships and vehicles

Locations

Races and cultures

Other references
---
Time Fire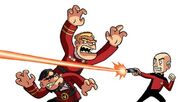 Episode 08-021, pages 206-215, stardate 48156.3

Characters

Cleopatra • Beverly Crusher • Wesley Crusher •

Neanderthal Hitler

• Jean-Luc Picard • Q •

William G. Riker

Referenced only

sentient cave

• Data •

robo-Neanderthal JFK

• Geordi La Forge • Deanna Troi • Worf

Starships and vehicles

USS Enterprise-D (Galaxy-class) •

Enterprise-Z

Locations

Bartek-8

• Caldos II • France • White House

Races and cultures

Referenced only

Other references
---
Controlled Burn
Episode 08-022, pages 216-224, stardate 48158.5

Characters

Beverly Crusher • Wesley Crusher • Data • Guinan • Geordi La Forge • William Riker •

Vick

• Worf •

Marvistan emperor

Locations

Marvista

• Ten-Forward

Races and cultures

Other references

amphora vase

• VISOR
---
Pointed Threats
Episode 08-023, pages 225-235, stardate 48158.7

Characters

Brotney

• Beverly Crusher • Wesley Crusher • Data •

Gagliar

• Geordi La Forge •

Vok

• Worf

Referenced only

Reginald Barclay •

T'Kik

• Tasha Yar

Starships and vehicles

Locations

Museum of Famous Swords

• Sector 25712 • sickbay •

Zindo

Referenced only

Qo'noS •

Siblee sector

Races and cultures

Other references

checkers

•

cocoon

•

The Danger Knife

•

The Demon Blade

• d'k tahg •

Garvdo's Revenge

•

House of Dink

• katana • lirpa •

Old Double Hilt

•

The Pleban

• Parrises squares • Prime Directive •

The Singing Sword

•

SnaptroS

•

Strife

•

warlarK
---
The Fun Enterprise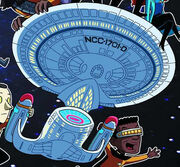 Episode 08-024, pages 236-246, stardate 48159.3

Characters

Reginald Barclay • B'Etor • Beverly Crusher • Data •

Donk

•

Jerry Feldman

• Geordi La Forge • Lursa • Jean-Luc Picard • William Riker • Worf

Starships and vehicles

USS Enterprise-D (Galaxy-class) •

fun Enterprise

Locations

Races and cultures

Other references

arcade machine

• bat'leth •

cigarette

• "

Consuming Living Prey

" •

cotton candy

•

Great Klingon Challenges

• grishnar •

jarzo

• House of Duras • House of Martok •

particle stick

•

shark tank

•

silly string

• targ •

YMCA
---
The Atrocious Mr. Quispy Bumpers
Episode 08-025, pages 247-258, stardate 48162.7

Characters

Quispy Bumpers

• Beverly Crusher • Wesley Crusher •

Nate

• William Riker

Starships and vehicles

Locations

Eternal Love Nest

•

Laap Ri

Races and cultures

Human •

quantum dolphin

•

Quispy Bumpers' species

Other references

bird tobacco dip
---
Werewolf-Wolf
Episode 08-026, pages 259, stardate 48163.1

Characters

Wesley Crusher • Data • Geordi La Forge • William T. Riker • Werewolf-Wolf •

alien jeweller

•

mega-mosquito

•

ultra-caterpillar

Locations

Tanz

Other references

Data's holonovels: (The Werewolf-Wolf: The Story of a Wolf that Can Turn into a Werewolf, Based on a Drawing by Geordi La Forge • The Engine That Nobody Thought Could Be Repaired but Then It Was: A Geordi Tale • The Mystery of the Candy Tree • Geordi Can Fly • Cowboy Horse • Dance-Contest Danger • Who Kidnapped Cowboy Horse • Snake Town • Vacation Island and the Mysterious Coin) •

mega-amber

•

mega-tree
Appendices
Images
External link