TNG season 8 redirects here. For a list of actual TNG seasons, see Star Trek: The Next Generation.
Star Trek: The Next Generation: Warped - An Engaging Guide to the Never-Aired 8th Season is a licensed parody book that includes summaries of 26 imaginary episodes from TNG's non-existent 8th season.
Description
[
]
In the basement of the Star Trek archives, behind shelves of USS Enterprise NCC-1701-D models, bags of wigs, and bins of plastic phasers, sits a dusty cardboard box. Inside is a pile of VHS tapes that contain never-before-seen episodes and behind-the-scenes footage for something truly amazing. The world thinks there are only seven seasons of Star Trek: The Next Generation, but there's one more. A secret season.
Actually, not really. But that didn't stop Mike McMahan, creator of the parody Twitter account @TNG_S8, from making a guide full of:
REAL* TNG SEASON 8 FACTS AND STORIES!
REAL* TNG SEASON 8 DIALOGUE AND IMAGES!
(* Again, not really, of course. This is humor. Sorry.)
Episodes
[
]
Crushers Not Included
[
]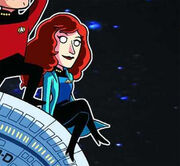 Episode 08-001, pages 1–9, stardate 47995.8

Characters

Starships and vehicles

USS Enterprise-D (Galaxy-class) •

Borg cones

Races and cultures

Other references

LuxComfort Ultra Blouse
---
Lecture Circuits
[
]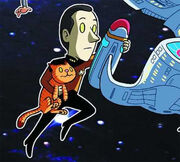 Episode 08-002, pages 10–18, stardate 47999.5

Characters

Data •

Ebra

•

Exocomp 77

•

Hover Car

•

Hargon

•

Linda

• Jean-Luc Picard •

Plimp

•

Rad

• William T. Riker •

Christoph Westlake

•

chatty birch

•

five-legged alien bear

Starships and vehicles

Locations

Blood Worm Awareness Conference Hall

• Earth •

Runyan 8

• Starfleet Academy •

Serengeti 5

(referenced)

Races and cultures

Other references

degenerative facial asymmetry disorder

• Khitomer Massacre •

Two's Company, Three's a Crowd

•

π Is the Ratio of a Circle's Circumference to Its Diameter

•

Your Mother Hates Me

• Iliad
---
Suggested Donation of Danger
[
]
Episode 08-003, pages 19-30, stardate 48015.1

Characters

Strongest Brian

•

Sweet Conrad

• Beverly Crusher • Data • Geordi La Forge • Gary Mitchell • Alyssa Ogawa • Jean-Luc Picard • William T. Riker •

Big Shakespeare

•

Gregory St. Beard II

•

Brave Steven

•

Tuk the Destroyer

•

Qorpo w'Ark

• Worf •

Zizz the Destroyer

Referenced only 

Starships and vehicles

Locations

Brodo-5

•

Hall of Amazing Men

• Marmullian Zacow •

Museum of Museum Studies

•

Museumtucky

•

New Museum

•

Realistic Forest

•

University of Museum

Referenced only 

Brodo-6

•

Equatorial Food Court Island

•

Fireworks Museum

•

Great Barrier Coat Room

•

Gift Shop Island

•

Icy Parking Lots of the North

Races and cultures

States and organizations

Other references 
---
Hair of the Synthadog
[
]
Episode 08-004, pages 31-44, stardate 48017.3

Characters

Beverly Crusher • Data •

Girtroy

• Guinan • Geordi La Forge • Jean-Luc Picard • Deanna Troi •

Mzzk queen

Referenced only 

Wesley Crusher •

David Krrgvanimanpon

• Worf

Starships and vehicles

USS Enterprise-D (Galaxy-class) •

Romulan patrol ship

Locations

Jessica 8

•

Jessica system

Referenced only 

Mzzk

Races and cultures

Referenced only 

Pigmalinite

States and organizations

Broheims

Other references

Buffer Buster

•

Cardassian Spy

• Ceti eel •

Edward 40 Hands

•

Eugenic War

•

Flaxian Flu

•

Grabarian potato

•

The Grouchy Bynar

• moon •

Mzzk ant

•

Paradise Snare

•

Pulaski's Drink

•

Qo'noS CoolatA

•

Regulan Shuttle Bomb

•

Risky Maneuver

• Romulan ale • sandwich •

Spin the Bottle of Punching

•

Tribble Maneuver

• Vulcan ale • Warp core breach (beverage) •

Yesterday's Tomorrow Today
---
I Only Have Mitochondria for You
[
]
Episode 08-005, pages 45-53, stardate 48022.3

Characters

Beverly Crusher • Jean-Luc Picard • William T. Riker •

sentient virus

Referenced only 

Starships and vehicles

Locations

Races and cultures

Human •

sentient virus
---
Transporter Madness
[
]
Episode 08-006, pages 54-64, stardate 48035.3

Characters

Beckett

• Wesley Crusher • Data • Jean-Luc Picard • William T. Riker •

Ridley Roiland

• Spot • Worf

Referenced only 

Starships and vehicles

Locations

Referenced only 

Arrar sector

• Gamma Quadrant

Races and cultures

Other references
---
Quantum Dolphins
[
]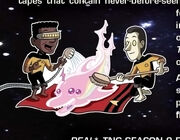 Episode 08-007, pages 65-77, stardate 48115.7

Characters

Beverly Crusher • Wesley Crusher • Data • Guinan • Geordi La Forge •

Pho

• Jean-Luc Picard •

Wade

•

dolphin judge

Referenced only 

Butternut

• Q • William T. Riker • The Traveler • Deanna Troi • Worf

Starships and vehicles

Locations

Referenced only 

Aquatics bay

• Cetacean ops

Races and cultures

Referenced only 

Boof

•

GiKwari

•

Hoovo

Other references

cocoa

•

Great Chumming Machine

•

hockey

•

horizontal space rainbow

•

quantum wine
---
Rikerworld
[
]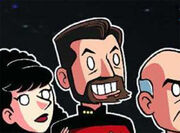 Episode 08-008, pages 78-84, stardate 48118.9

Characters

Starships and vehicles

Locations

Manly Mines

•

Rastogan-12

• sickbay •

Swagger Cathedral

Races and cultures

Other references

beardgrass

• jazz •

microscopic Riker

•

Riker bat

•

Riker horse
---
The Final Sale Frontier
[
]
Episode 08-009, pages 85-94, stardate 48121.2

Characters

Johann Sebastian Bach (hologram) • Wesley Crusher • Data •

EnyonK

• Geordi La Forge • Miles O'Brien • Jean-Luc Picard • William T. Riker •

WhitnE

Referenced only 

Starships and vehicles

Locations

Brittney's

• holodeck

Referenced only 

Canyons of Trajdor

• Deep Space 9 •

Villia

Races and cultures

Referenced only 

Other references

Kolinahr •

Logic Lice

•

Mzzk ant

•

nanogoo stir stick

•

The Savage Curtain (song)

• yamok sauce
---
Deadly Cadence
[
]
Episode 08-010, pages 95-106, stardate 48125.6

Characters

Beverly Crusher • Data •

Gla'ar

• Geordi La Forge • Jean-Luc Picard • William T. Riker • Deanna Troi • Worf •

Tangorian wasp

Referenced only 

Geoffrey Chaucer •

G'Trok

•

Kar'Mar

• Mark Twain

Starships and vehicles

Locations

Luvu

Referenced only 

Races and cultures

Other references

bat'leth •

BMW

•

Cortack Blood

•

kut'luch

•

rollerblades
---
Fertile Ground
[
]
Episode 08-011, pages 107-118, stardate 48126.9

Characters

Antoinette

• Beverly Crusher • Data • Geordi La Forge • Jean-Luc Picard • William T. Riker •

caterpillar-esque creature

•

mouse-like alien

Referenced only 

Starships and vehicles

Locations

deck 25

•

hydroponics bay

Races and cultures

Referenced only 

Other references

black hole •

graviton beam

• katana • Khitomer Accords • tachyon emitter
---
White Face Paint and Black Tubing
[
]
Episode 08-012, pages 119-127, stardate 48128.1

Characters

Wesley Crusher •

Iowa (horse)

• Geordi La Forge • Jean-Luc Picard • William T. Riker

Referenced only 

Starships and vehicles

Locations

battle bridge

•

Gambier 5

• Ten-Forward • turbolift

Races and cultures

Referenced only 
---
The Lowest Decks
[
]
Episode 08-013, pages 129-138, stardate 48128.8

Characters

Franklin

• Geordi La Forge •

Lydia

• Worf

Referenced only 

Starships and vehicles

Referenced only 

Locations

Deck 43

Races and cultures

Referenced only 

Other references
---
Terror-forming
[
]
Episode 08-014, pages 139-147, stardate 48136.3

Characters

Wesley Crusher • Data • Geordi La Forge • Jean-Luc Picard • William T. Riker •

Willis

• Worf •

Zachary (dolphin)

Starships and vehicles

Locations

Hupyria (planet) •

Naldoar Prime

Races and cultures

Referenced only 

Other references

beetle shack

• Genesis Device
---
Barclay's Day
[
]
Episode 08-015, pages 148-159, stardate 48137.1

Characters

Reginald Barclay •

California Steve

• Jean-Luc Picard • Q •

baby space snakes

Starships and vehicles

Locations

Races and cultures

Other references

environmental suit •

Gazorpazorpian caterpillar

•

holodeck arch

• replicator •

sauna

• shield emitter • turbolift
---
Predators
[
]
Episode 08-016, pages 160-166, stardate 48138.4

Characters

Wesley Crusher • Data • Homn • Jean-Luc Picard • William Riker • Deanna Troi • Lwaxana Troi •

VelociRiker

• Worf

Referenced only 

Starships and vehicles

Locations

Referenced only 

Races and cultures

Referenced only 

Other references

Tavnian buzzard

• tennis
---
Icy Hot
[
]
Episode 08-017, pages 167-175, stardate 48139.6

Characters

Wesley Crusher • Data •

Fargon

• Geordi La Forge • Jean-Luc Picard • William Riker •

Vick

Starships and vehicles

Locations

Porp

• bridge

Races and cultures

Other references

antiproton beam •

distortion wave

•

gravitic sensor net

•

Lower Decks Challenge

•

metaphasic sweep

• Mok'bara •

quantum beacon

•

sensor echo

•

Suicide (beverage)

•

tachyon detection grid

• tetryon
---
Hippocratic Style
[
]
Episode 08-018, pages 176-184, stardate 48139.9

Characters

Chezzer

• Beverly Crusher • Wesley Crusher • Data •

Gorlip

•

Korpo

•

Kupow Triplets

• Geordi La Forge • Jean-Luc Picard • Worf •

Laaperian hawk

Referenced only 

Brooke

Starships and vehicles

Locations

Marmi

• Ten-Forward

Races and cultures

Referenced only 

Other references

bat'leth • dilithium • Hippocratic Style • positronic brain •

Silver Spoon syndicate

• VISOR
---
Tashayarasha Tyar
[
]
Episode 08-019, pages 187-196, stardate 48140.2

Characters

Beverly Crusher • Wesley Crusher • Data •

Picariketroi LaCrusher

• Geordi La Forge • Jean-Luc Picard • William Riker • Deanna Troi • Worf •

Tashayarasha Tyar

• Tasha Yar

Referenced only 

Starships and vehicles

Locations

Referenced only 

Nervala IV •

Vagra II

Races and cultures
---
Son of a Mogh
[
]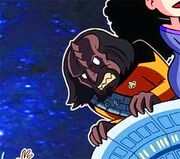 Episode 08-020, pages 197-205, stardate 48155.7

Characters

Angelikar Cavallo

• Wesley Crusher • Data • Jean-Luc Picard • Worf •

cyber crabs

Starships and vehicles

Locations

Races and cultures

Other references
---
Time Fire
[
]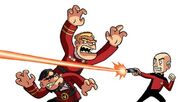 Episode 08-021, pages 206-215, stardate 48156.3

Characters

Cleopatra • Beverly Crusher • Wesley Crusher •

Neanderthal Hitler

• Jean-Luc Picard • Q •

William G. Riker

Referenced only 

sentient cave

• Data •

robo-Neanderthal JFK

• Geordi La Forge • Deanna Troi • Worf

Starships and vehicles

USS Enterprise-D (Galaxy-class) •

Enterprise-Z

Locations

Bartek-8

• Caldos II • France • White House

Races and cultures

Human • Neanderthal • Q

Referenced only 

Other references
---
Controlled Burn
[
]
Episode 08-022, pages 216-224, stardate 48158.5

Characters

Beverly Crusher • Wesley Crusher • Data • Guinan • Geordi La Forge • William Riker •

Vick

• Worf •

Marvistan emperor

Locations

Marvista

• Ten-Forward

Races and cultures

Other references

amphora vase

• VISOR
---
Pointed Threats
[
]
Episode 08-023, pages 225-235, stardate 48158.7

Characters

Brotney

• Beverly Crusher • Wesley Crusher • Data •

Gagliar

• Geordi La Forge •

Vok

• Worf

Referenced only 

Reginald Barclay •

T'Kik

• Tasha Yar

Starships and vehicles

Locations

Museum of Famous Swords

•

Sector 25712

• sickbay •

Zindo

Referenced only 

Qo'noS •

Siblee sector

Races and cultures

Other references

checkers

•

cocoon

•

The Danger Knife

•

The Demon Blade

• d'k tahg •

Garvdo's Revenge

•

House of Dink

• katana • lirpa •

Old Double Hilt

•

The Pleban

• Parrises squares • Prime Directive •

The Singing Sword

•

SnaptroS

•

Strife

•

warlarK
---
The Fun Enterprise
[
]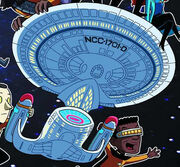 Episode 08-024, pages 236-246, stardate 48159.3

Characters

Reginald Barclay • B'Etor • Beverly Crusher • Data •

Donk

•

Jerry Feldman

• Geordi La Forge • Lursa • Jean-Luc Picard • William Riker • Worf

Starships and vehicles

USS Enterprise-D (Galaxy-class) •

fun Enterprise

Locations

Races and cultures

Other references

arcade machine

• bat'leth •

cigarette

• "

Consuming Living Prey

" •

cotton candy

•

Great Klingon Challenges

• grishnar •

jarzo

• House of Duras • House of Martok •

particle stick

•

shark tank

•

silly string

• targ •

YMCA
---
The Atrocious Mr. Quispy Bumpers
[
]
Episode 08-025, pages 247-258, stardate 48162.7

Characters

Quispy Bumpers

• Beverly Crusher • Wesley Crusher •

Nate

• William Riker

Starships and vehicles

Locations

Eternal Love Nest

•

Laap Ri

Races and cultures

Human •

quantum dolphin

•

Quispy Bumpers' species

Other references

bird tobacco dip
---
Werewolf-Wolf
[
]
Episode 08-026, pages 259, stardate 48163.1

Characters

Locations

Tanz

Other references

mega-amber

•

mega-mosquito

•

mega-tree
Appendices
[
]
Images
[
]
External link
[
]