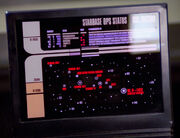 Starbase 4077 was a Federation starbase in operation by Starfleet in the 24th century.
History and specifics
Starbase 4077 was located in or near the Sol sector, in close proximity to the Orion Sector Tactical Command. This was one of a number of locations examined by Data when he scanned library computer references of Starfleet Command communications. (TNG episode: "Conspiracy")
This was one of a number of references to M*A*S*H, where the unit was the 4077th.
Appendices
Connections
References
External link