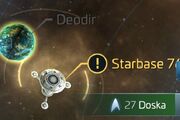 In the Kelvin timeline, Starbase 76 was a 23rd century Federation space station, a starbase in Starfleet service in the 2260s decade.
History and specifications
In the year 2262, Starbase 76 was located in the orbit of planet Deodir in the Doska star system]]. The system was patrolled by Starfleet and non-aligned forces. Independents also frequented the system. (ST video game: Fleet Command)
It is unclear if the primary universe version of Starbase 76 would also be situated at Doska.
Appendices
Connections
References