For the primary universe counterpart, see Starbase 91.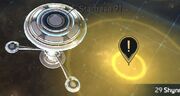 In the Kelvin timeline, Starbase 91 was a 23rd century Federation space station, a starbase in Starfleet service in the 2260s decade.
History and specifications
[
edit
|
edit source
]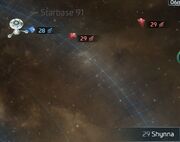 In the year 2262, Starbase 91 was located in the Shynna star system. The system was patrolled by Starfleet and non-aligned forces. Independents also frequented the system. (TOS video game: Fleet Command)
In the year 2263, the Borg Collective attacked Starbase 91 with the assimilated USS Albatross and a Bortas-class battleship after Shani and Maia had delivered Ten of Ten, a Borg tribble, to Lieutenant Commander Montgomery Scott. (TOS video game: Fleet Command mission: "Big Tribble in Little Shynna")
Commander Scott was shocked because the Albatross had been docked at SB91 only the week before. (TOS video game: Fleet Command mission: "Bubble, Bubble, Toil and Tribble")
Community content is available under
CC-BY-SA
unless otherwise noted.