Starfleet Command (SFC) was a video game, the first in a series of games released by Interplay. The games were fully licensed Star Trek products, but were based on Star Fleet Battles, an RPG that did not have license to use the "Star Trek" name, but used ships and designs based on information from the Original Series and the Animated Series.
Introduction
[
]
Starfleet Command is a computer game that is based on the board game Star Fleet Battles. It uses the same hex board format, races, ships, and story lines. Controlling one of the original states, such as the Federation or the Klingon Empire, a player has to travel the galaxy taking territory (hex by hex) from its enemies through fleet/ship battles. Both of these games take their inspiration from Star Trek: The Original Series.
Summary
[
]
Starfleet Command was an 'open-world game' and as such had no set plot in a normal campaign beyond the aspects of the SFB time period it was set in (the General War during the TOS Movie Era). Owing to the large number of missions, no two campaign playthroughs were identical.
The true 'story' of Starfleet Command was only accessed by join the elite organization(s) of each empire, all of which dealt with (or at at least had one mission referring to) the disappearance of the Organians, and the effect this has on local space.
United Federation of Planets (Starfleet Special Task Force) - After confirming that the Organians have departed for parts unknown, the player first participates in a test of a new weapons system before discovering that the forces of the Terran Empire (though it is not referred to as such in-game) have crossed over from the mirror universe and attempting to take over the Federation.
Klingon Empire (Black Fleet) - After confirming the Organians have departed, the Klingons attempt to use the increase in political tensions to their advantage before discovering that a much larger threat exists in the form of of a long dead psionic race coming back from beyond the grave. This campaign is notable for not only featuring a direct crossover with the Federation storyline, but also for the mission 'That Which Must Die', where the player embarks on a quest to rid the Klingon Empire of one of its greatest threats: Tribbles (described below).
Romulan Star Empire (Tal Praiex, Tal Shiar) - The outbreak of a plague sees the Romulan organizations hunting down the Orion Pirates and raiding stations belonging to other empires before the political machinations of the leader of the Tal Shiar throw the future of the Empire into question.
Lyran Star Empire (Red Claw, Iron Fang, & Mountain Watchers) - The political machinations of the clans of the Lyran Empire, ranging from recruiting engineers to building weapons and defenses of questionable usefulness, take a back seat to the realization that an old enemy is attempting to conquer from within. Note: the Mountain Watchers are listed in the game's instruction as an elite organization, but they cannot be joined by the player.
Hydran Kingdom (The Keepership) - The disappearance of the Organians disrupts the forcefields that corral the 'Star Beasts' (their name for the game's space monsters) in preserves, and the Hydrans must bring them back, before discovering that other Hydran factions have other plans. Note: While three Hydran cults are listed as elite organizations in the game's instruction manual, only the Keepership can be joined. The other two cults serve as antagonists throughout the campaign.
Gorn Confederation (The Kings Guard, the Defenders of the Egg, & The Guardians Errant) - The not-so-friendly rivalry between the 3 Gorn organizations must be put on hold when it is discovered that a clutch of Gorn eggs have gone missing, and the thief turns out to be the last party anyone expected.
The Gorn and Hydran campaigns were not included with the game upon initial release, and had to be downloaded from the Interplay website; the 'Gold' edition of the game saw them included. Interplay also released follow-up missions for the Federation, Klingons, and Romulans that book-ended some of the events of each campaign (for the Federation missions, the player embarks on a quest to find the Organians, the Klingons deal with the WYN, and the Romulans must deal with the Orion Pirates). However, these missions were programmed so that they appeared regardless of whether or not the player had joined the elite organization(s) of each empire.
It should also be noted that most of the story campaigns obliquely reference each other. For example, the third mission of the Gorn campaign will reference events in either the Federation or Romulan campaigns, depending on which faction is selected as the enemy.
That Which Must Die
[
]
That Which Must Die is a Starfleet Command mission played on the Klingon storyline, provided that you are a Black Fleet captain at the time. It's basically you participating in an event that has canonically been alluded to but never shown per se, the Great Tribble Hunt.
Overview
[
]
You start the mission in high orbit around a planet (presumably Iota Geminorum IV) Around the planet are several ships. Depending on the number and strength of the ships under your possession at this moment, they may range from destroyers to heavy cruisers. Of all ships in orbit, one of them will house a few hundred tribbles in containment fields and the mission will refer to the ship in question as a zoology ship.
Because of the second part of the mission, which involves the destruction of a Starbase (well, it's technically a Starbase, but the game will say it is a base station instead) it is recommended that you possess at least two K'Tinga-class ships (three is preferred, or one/two D7s and a Dreadnought) at the beginning of the mission. The Base Station will contain thousands of tribbles.
Finally, you must indulge in orbital bombardment to kill the billions of tribbles once the station is destroyed. You must keep hitting the planet with your weapons until your science officer, whoever he/she may be, says that "all life has been exterminated on the planet, including... tribbles"
This article or section is incomplete
This article is marked as lacking essential detail, and needs attention. Information regarding expansion requirements may be found on the article's talk page. Feel free to edit this page to assist with this expansion.
References
[
]
Characters
[
]
Federation characters
[
]
Federation captains 

Federation chief engineers 

Federation helm officers 

Federation science officers 

Federation security chiefs 

Federation

weapons officers

 
Gorn characters
[
]
Gorn captains 

Gorn chief engineers 

Gorn helm officers 

Gorn science officers 

Gorn security chiefs 

Gorn

weapons officers

 
Hydran characters
[
]
Hydran captains
Hydran chief engineers 

Diffordetz • Erix Hythx • Hanghsth • Hsplith Hist • Hyrrth • Oomph • Pvath • Skzowitz • Slarti Bartfast • Ynygma • Pluzx • Quamtiron
Hydran helm officers

Cartwright (Hydran) • Droole Gargantaine • H'rol Hyrnn • Pylghht • Druthh Hydra • Dbil • Obitztor • Sheel Bedi • Pledzur Helfram • Ruzzabot • Sazzafraz • Ventribarr
Hydran security chiefs 

Trisp Qoph • Hystorpth • Hoors Toops • Hrun • Plyst Hopsth • Plyathhapbast • Mkritz • Dagitz • Bikungiphar • Zool
Hydran science officers 

Dastaprawson • Hypantspts • Plytth • Hydrahysrta • Quarglespurth • Lablijepts • Pltzvltz • Dentrivan • Falimorr • Kulinarr • Nemesarr
Hydran

weapons officers

 

Anabesh • Bilbodar • Chalicon • Habablathh • Hisp Gapth • Hlyrst • Hstaphathh • Hwutdi • Kyljoi • Hyspathh • Hrous • Hwutdi Fuggwynonhir
Klingon characters
[
]
Klingon captains 

Adrokos • Ardak Kumerian • Borzad Kallon • Kagan • Kang • Karten • Karvic • Korath • K'Nard • K'trenn
Klingon chief engineers 
Klingon helm officers 
Klingon science officers 
Klingon security chiefs 
Klingon

weapons officers

 
Lyran characters
[
]
Lyran captains 
Lyran chief engineers 
Lyran helm officers 

Ringtail • Bloodfeast (Lyran) • Frinkor • Nashar • Rippke • Tragar • QuickFang • Blackeye • Brightnose
Lyran science officers 
Lyran security chiefs 
Lyran

weapons officers

 

Bloodfur • Goremaker • Skullsplit • Ffarric • Perrzear • Pilerk • Iceclaw • Pfrizzek • Sharpclaw • Omar Cadly
Orion characters
[
]
Orion captains 

Orion engineer officers 

Orion science officers 

Orion helm officers 

Orion security officers 

Orion

weapons officers

 
Romulan characters
[
]
Romulan captains 
Romulan chief engineers 
Romulan helm officers 

Accersitus (23rd century) • Candus Fugo (23rd century) • Ellus Gabri (23rd century) • Pelagius Gloiu (23rd century) • Jeron (23rd century) • Xiphius Navigo (23rd century) • Cherov Orsanion (23rd century) • Rolindra (23rd century) • Marcus Tal (23rd century) • Linnus Torvar (23rd century) • Vendemiatrix (23rd century) • Vladamir (23rd century)
Romulan science officers 

Dawntali (23rd century) • Galleron Fredex (23rd century) • Flavius Glavius (23rd century) • Mel Mellis (23rd century) • Octavianius • Rama (23rd century) • Remus (23rd century) • Sandavia (23rd century) • Semprinnius (23rd century) • Talon Tkorrick (23rd century) • Torius (23rd century) • Artemis Trium (23rd century)
Romulan security chiefs 
Romulan

weapons officers

 

Andrius (23rd century) • Berdos (23rd century) • Teric Caladislus (23rd century) • Barathrum Caries (23rd century) • Latissimus Dorsai (23rd century) • Maximus (23rd century) • L'afe N'Drersen (23rd century) • Oxinamicus (23rd century) • Donarius Sectarius (23rd century) • Sempritenitus (23rd century) • Diruo Senex (23rd century) • Sirhc Turren (23rd century) • Nerok Volandus (23rd century)
Starships and vehicles
[
]
Star Trek: Starfleet Command features a wide variety of starships to use. Unlike traditional canon Star Trek, ships are not so much divided by class and hull, but by armament and use.
Federation ships
[
]
The United Federation of Planets utilize phasers, photon torpedos, and drones as their main weaponry. Their ships generally have well-rounded abilities, as they are not designed solely for battle. As a result they have superior science systems and shielding to most other races.
Ships with a + at the end of their designation have received a Plus Refit, adding various improvements to the ship, including shielding, power, or defensive weapon ports.
Ships with an R at the end of their designation have received a Rear Phaser Refit, an extra rear-arc phaser bank, where lacking rear defense.
Federation frigates
[
]
Okinawa-class frigate (FF) 
Okinawa-class

guided weapons frigate

(FFG) 

Auchinlek • Buford • Chamberlain • Hall • Jackson • Joseph • Longstreet • Manstein • O'Connor • Schwartzkopf • Yi-Chun
Okinawa-class

drone frigate

(FFD) 
Okinawa-class advanced

drone frigate

(FFD+) 
Roger Young • Kripney • Sulaco
Okinawa-class advanced commando frigate (CFF+) 
Okinawa-class battle frigate (FFB) 
Okinawa-class

police frigate

(POL) 
Okinawa-class advanced

police frigate

(POL+) 
Akula-class war destroyer (DW) 

Ardzinba • Barzani • Buthelezi • Chaudhry • Chissano • Chilingutila • Dudayev • Fadlallah • Gemayal • Hun Sen • Iskandarov • Sultan • Mandela • Nasrallah • Ocalan • Ortega • Manuel • Prabhakaran • Premadasa • Pundy • Rabin • Saddam • Safarov • Talabani • Taylor • Tongogara • Turabi • Villalobos • Gusmao • Zamora
Akula-class

war drone destroyer

(DWD) 
Akula-class

commando war destroyer

(CDW) 
Akula-class

command war destroyer

(DWC) 
Federation light cruisers
[
]
Akula-class destroyer (DD) 

Saladin • Genghis • Alaric • Kublai • Suleiman • Etzel • Tamerlane • Alexander • Ahriman • Rahman • Adad • Hashishiyun • Azrael • Hamilcar • Ares • Pazuzu • Hiawatha • Atilla • Zoroaster • Golda Meir • Brigham Young • Skanderbeg • Daniel Morgan • Lysander • Israel Putnam • R.E. Lee • Thurmost III • Leonidas • Marius • Nebuchadnezzar
Akula-class advanced destroyer (DD+) 

Darius • Sargon • Xerxes • Pompey • Hannibal • Charlamagne • Eisenhower
Akula-class

guided weapons destroyer

(DDG) 
Akula-class advanced

guided weapons destroyer

(DDG+) 

Sadat • Shaitan • Czar Alexander IV • Suvarov • King David
Miranda-class new light cruiser (NCL) 

Alabama • Gneisenau • Kearsarge • Littorio • Moreno • Mutso • Nagato • New Mexico • Prinz Eugen • Reliant • Renown • Repulse • Richelieu • Rivadavia • Scharnhorst • Strasbourg
Miranda-class advanced new light cruiser (NCL+) 
Miranda-class new drone cruiser (NCD) 
Miranda-class advanced new drone cruiser (NCD+) 

Sergei • Grochenko • Baba Yaga • Moscotivitch
Miranda-class new

commando transport

(NCT) 

Vision • Vindicator • Virgil • Ford
Miranda-class advanced new

commando transport

(NCT+) 
Miranda-class

command light cruiser

(CLC) 
Miranda-class new heavy cruiser (NCA) 

Chicago • New York • Dayton • Los Angeles • London • Tokyo • Beijing • Berlin • Mecca • Buenos Aires • Kinshasa • Milwaukee • Atlanta • Calgary • Philadelphia • Yellowknife
Miranda-class new

heavy command cruiser

(NCC) 
Federation heavy cruisers
[
]
Constellation II • Goeben • Eximer • Oriskany • Republic • Reshadije • Ramilles • Constitution • Enterprise • Farragut II
Constitution-class (Enterprise-subclass refit) rear-fire heavy cruiser (CAR) 

Yorktown • Exeter • Intrepid II • Valiant II • Potemkin • Monitor • Hornet • Merimac • Endeavor • Defiance
Constitution-class (Enterprise-subclass refit) advanced heavy cruiser (CA+) 
Constitution-class (Enterprise-subclass refit)

heavy drone cruiser

(CAD) 
Lexington • Excalibur II • Kongo • Lafayette • Essex
Constitution-class (Enterprise-subclass refit)

heavy command cruiser

(CB) 

Gettysburg • Kadesh • Thermopolae • Cannae • Alesia • Isandhlwana • Gravelotte • Tannenberg • Kursk • Coral Sea • Inchon • Khe Son • Golan • Alfeld • Austerlitz • Panjsher • Suomussalmi • Rocroi • Poltava • Rossbach • Gaugamela • Vincennes • Basra
Excelsior-class (Kirov-subclass)

guided weapons battle cruiser

(BCG) 

Matsumo • Graf Spee • Charleston • Cleveland • Dayton • Guirierre
Excelsior-class (Bismarck-subclass)

fleet battle cruiser

(BCF) 
Bunker Hill • Howland • Saber • Orca • Kirov • Australia • New Zealand • New Jersey • Bismarck • Forrest • Ogarkov • Montana
Constitution-class (Enterprise-subclass refit)

fire support cruiser

(CFS) 

Ranger • Paladin • Knight Errant • Highwayman
Constitution-class (Enterprise-subclass refit) advanced

fire support cruiser

(CFS+) 
Federation dreadnoughts
[
]
Yamato-class battleship (BB) 
Ulysses-class

[

]
Ulysses-class dreadnought variants:
Alliance • Condordat • Consortium • Directorate • Federation • Konkordium • Star League • Star Union

advanced dreadnought 

improved dreadnought 

Entente • Unification • Solidarity

heavy dreadnought

 

Babylon • Federation II • Unity • Domination
Gorn ships
[
]
Gorn dreadnoughts
[
]
Gorn dreadnought

 

GCS Dragon of Three Stars • GCS Deathbeast • GCS Sword of the Tri-Star • GCS Doomlizard

Gorn fleet dreadnought

 

GCS Slayer of Enemy • GCS S'ssnissian • GCS Slither • GCS Deathbeast • GCS Sword of the Tri-Star • GCS Doomlizard • GCS Dragon of Three Stars

Gorn heavy dreadnought

 

GCS Emperor's Glory • GCS Stronger Tallons • GCS S'sslathosss

Gorn battleship

 

GCS Godzilla • GCS Predator • GCS Queenmother • GCS Wargod • GCS Imperius Rex
Gorn light cruisers
[
]
Anaconda-class light cruiser variants

Gorn heavy destroyer

 

GCS Szurra • GCS Sardith's Sword • GCS Champion • GCS Eaglebane • GCS Scorpion • GCS Crusader • GCS Setting of the Twin Suns • GCS Thunderbeast • GCS Tenacious • GCS Justicar • GCS Freedom • GCS Unity • GCS Harmony • GCS Excellence • GCS Perfection • GCS Tyrex • GCS Draconiad • GCS Draco Norbus • GCS Golitho • GCS Crotalian • GCS Flame • GCS Thundersnake • GCS Szkor • GCS Szurrazan • GCS Talons of Glory

Gorn heavy destroyer

(advanced) 

GCS Irontail • GCS Glorious Comeback • GCS Gormwest • GCS Irongrip

Gorn heavy commando destroyer

 

GCS Groundpounder • GCS Queen of Battle • GCS Lady of War

Gorn heavy commando destroyer

(advanced) 

GCS Groundpounder • GCS Queen of Battle • GCS Lady of War

Gorn heavy command destroyer

 

GCS Terrible Hand • GCS Tail of Spikes • GCS Gorrion • GCS Firedrake

Gorn medium cruiser

 

GCS Scything Tail • GCS Selach • GCS Final Strike

Gorn strike cruiser

 

GCS Death Stomp • GCS Death Tongue • GCS Death Wail

Gorn medium command cruiser

 

GCS Princess Bauria • GCS Prince Allurian • GCS Princess Ss'ltah • GCS Prince Aratok
Gorn heavy cruisers
[
]
Gorn light cruiser

(CL), advanced light cruiser (CL+), fleet light cruiser (CLF) 

Dragonfire • Dragonbane • Thunderchild • First Strike • Fleshharrower • Hunter Two Legs • Tannin • Gdhar • Shima • Spiller of Warm Blood • Imperial Protector • Imperial Defender • S'ssnossis • S'sscullars • Lord of the Sky • Emperor of the Sky
Gorn commando light cruiser

(COM), advanced

commando light cruiser

(COM+), fleet commando light cruiser (CMF) 

Groundfire • Skyfire • Cloudfire • Enemy Crusher • Homeland Vindicator • Drakorra • Centrosuarus
Gorn heavy cruiser

 

Chimericon • Sauricon • Serpenticon • Reptilicon • Predatoricon • Wyvericon • Chamelicon • Dragonicon • Tricericon

Gorn heavy cruiser

(advanced) 

Chimericon • Sauricon • Serpenticon • Reptilicon • Predatoricon • Wyvericon • Chamelicon • Tricericon • Wyrmicon • Drakeicon

Gorn battle cruiser

 

Chimericon • Sauricon • Serpenticon • Reptilicon • Predatoricon • Wyvericon • Chamelicon • Tricericon • Lizardicon • Predicon • Slithicon • Rexicon

Gorn command cruiser

 

Dragonicon • Tyranicon • Vipericon • Chromaticon • Rex • Draconicon

Gorn command cruiser

(advanced) 

Dragonicon • Tyranicon • Vipericon • Chromaticon • Rex • Beasticon

Gorn fleet command cruiser

 

Dragonicon • Tyranicon • Vipericon • Chromaticon • Rex • Roaricon

Gorn heavy command cruiser

 

Dragonicon Rex • Tyranicon Rex • Vipericon Rex • Chromaticon Rex • Lizardicon Rex

Gorn heavy battle cruiser

 

Galnitak • Torch of Conquest • Lord of Lightning

Gorn fast battle cruiser

 

Death's Heart • Death's Head • Death's Eye • Death's Hand

Gorn tactical command cruiser

(TCC) 

Gojira
Gorn frigates
[
]
Gorn destroyer

(DD), advanced destroyer (DD+),

Gorn fleet destroyer

(DDF) 

Gorn commando destroyer

(DDG), advanced commando destroyer (DDG+) 

Gorn destroyer leader

(DDL), advanced destroyer leader (DDL+) 

Gorn battle destroyer

(BDD), advanced battle destroyer (BDD+) 

Gorn battle commando destroyer

(BDG), advanced battle commando destroyer (BDG+) 

Gorn battle destroyer leader

(BDL), advanced battle destroyer leader (BDL+) 

Gorn police frigate

(FF), advanced police frigate (FF+) 
Other Gorn ships
[
]
Gorn freighter

 

GCS Track of Heavy Foot • GCS Thunderfoot • GCS Footfall • GCS Cave Protector • GCS Clan Provider • GCS Fearless Dragon • GCS Dragon's Destiny • GCS Father of War • GCS Cave Finder • GCS Cave Fire • GCS Dragon Honor • GCS Strong Heart
Lyran ships
[
]
Lyran frigates
[
]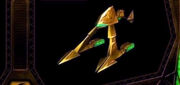 Cheetah-class frigate (FF) 

Blooddrinker • Bloodspiller • Defender of the Race • Slammer • Strongjaw • Summit • Bloodfeast • Rake

Cheetah-class advanced frigate (FF+) 

Jagged Fang • Twilight • Bloodspiller • Strongjaw • Bloodfeast • Bloodfang

Cheetah-class frigate (FFP) 

Fury • Twilight • Bloodspiller • Strongjaw • Bloodfeast • Bloodfang

Cheetah-class

police frigate

(MP) 

Cheetah-class advanced

police frigate

(MP+) 

AlleyCat-class war destroyer (DW) 

Firecat • Kzinslayer • Lifetaker • Raker • Slammer • Slaughterer

AlleyCat-class advanced war destroyer (DW+) 

Firecat • Kzinslayer • Lifetaker • Raker • Slaughterer

AlleyCat-class war destroyer (DWP) 

Plunderer • Slaughterer • Kzinslayer • Firekitten • Killer

AlleyCat-class

war destroyer leader

(DWL) 

Deathdealer • Maimer • Deathcat • Soultaker • Kzinkiller

AlleyCat-class

war destroyer leader

(DWLP) 

Deathdealer • Maimer • Deathcat • Soultaker • Kzinkiller
Orion ships
[
]
Orion cruiser I (CA1) 

Orion cruiser II (CA2) 

Orion cruiser III (CA3) 

Orion

advanced cruiser

I (CA+1) 

Orion advanced cruiser II (CA+2) 

Orion advanced cruiser III (CA+3) 

Heavensent • Culprit • Needle's Damage • Solar Sailer • Enforcer • Torturer • Blademaster

Orion battle cruiser I (BC1) 

Orion battle cruiser II (BC2) 

Orion battle cruiser III (BC3) 

Orion heavy battle cruiser I (BCH1) 

Heavyhanded

•

True Sight

•

Spiritcaptor

•

Final Blow

Orion heavy battle cruiser II (BCH2) 

Paingiver

•

Bloody Gloves

•

Triumph

Orion heavy battle cruiser III (BCH3) 

Ruler

•

Pit of Knives

•

Goldenspear

Orion dreadnought I (DN1) 

Orion dreadnought II (DN2) 
Klingon ships
[
]
Klingon frigates
[
]
E4B-class escort (bird-of-prey) 
E4K-class escort (bird-of-prey) 
E4D-class

drone escort

(bird-of-prey) 
E4G-class/E4GB-class

commando escort

(bird-of-prey) 
E4Y-class

cloaking escort

(bird-of-prey) 
E6-class

battle escort

(bird-of-prey) 
G2-class

police gunboat

(bird-of-prey) 
G2C-class

police gunboat leader

(bird-of-prey) 
F5-class frigate (QuD-class bird-of-prey) 

IKV Ardent • IKV Arduous • IKV Audacious • IKV Bandit • IKV Barracuda • IKV Beast • IKV Blackguard • IKV Blackstar • IKV Brave • IKV Courageous • IKV Dasher • IKV Devil's Anvil • IKV Eviscerator • IKV Fearless • IKV Fiend • IKV Fury • IKV Harasser • IKV Hero of Zursk • IKV Glorious • IKV Khedive • IKV Kievak • IKV Kor • IKV Mayhem • IKV Nova • IKV Stalker • IKV Stealth • IKV Stormer • IKV Tenacity • IKV Terrorist • IKV Undaunted • IKV Vandal • IKV Vengeful • IKV Vicious • IKV Vigilance • IKV Violation • IKV Volcano • IKV Voracious • IKV Axe Wielder • IKV Axe Demon • IKV Axe Slayer • IKV Axe Warrior • IKV Battle Chariot • IKV Battle Cry • IKV Battle Demon • IKV Battle Dog • IKV Battle Dragon • IKV Battle Fire • IKV Battle Song • IKV Battle Storm • IKV Battle Sword • IKV Battle Wind • IKV Blood Chariot • IKV Blood Demon • IKV Blood Fire • IKV Blood Lust • IKV Blood Slayer • IKV Blood Storm • IKV Blood Sword • IKV Death Angel • IKV Death Chant • IKV Death Chariot • IKV Death Cry • IKV Death Demon • IKV Death Song • IKV Death Storm • IKV Death Sword • IKV Death Warrior • IKV Death Wielder • IKV Death Wind • IKV Doom Chant • IKV Doom Chariot • IKV Doom Cry • IKV Doom Song • IKV Doom Sword • IKV Doom Warrior • IKV Doom Wind • IKV Dragon Claw • IKV Dragon Chariot • IKV Dragon Cry • IKV Dragon Fire • IKV Dragon Scale • IKV Dragon Song • IKV Dragon Sword • IKV Dragon Tooth • IKV Fire Air • IKV Fire Angel • IKV Fire Chariot • IKV Fire Cry • IKV Fire Demon • IKV Fire Dog • IKV Fire Dragon • IKV Fire Hound • IKV Fire Lust • IKV Fire Slayer • IKV Fire Song • IKV Fire Starter • IKV Fire Storm • IKV Fire Sword • IKV Fire Warrior • IKV Fire Wielder • IKV Fire Wind • IKV Storm Cry • IKV Storm Chariot • IKV Storm Demon • IKV Storm Dog • IKV Storm Dragon • IKV Storm Slayer • IKV Storm Song • IKV Storm Warrior • IKV Storm Wielder • IKV Storm Wind • IKV War Angel • IKV War Chant • IKV War Chariot • IKV War Cry • IKV War Demon • IKV War Dog • IKV War Dragon • IKV War Hound • IKV War Lust • IKV War Slayer • IKV War Song • IKV War Storm • IKV War Sword • IKV War Wielder • IKV War Wind
IKV Battle Chariot • IKV Battle Cry • IKV Battle Demon • IKV Battle Dog • IKV Battle Dragon • IKV Battle Fire • IKV Battle Song • IKV Battle Storm • IKV Battle Sword • IKV Battle Wind • IKV Blood Chariot • IKV Blood Demon • IKV Blood Fire • IKV Blood Lust • IKV Blood Slayer • IKV Blood Storm • IKV Blood Sword • IKV Death Angel • IKV Death Chant • IKV Death Chariot • IKV Death Cry • IKV Death Demon • IKV Death Song • IKV Death Storm • IKV Death Sword • IKV Death Warrior • IKV Death Wielder • IKV Death Wind • IKV Doom Chant • IKV Doom Chariot • IKV Doom Cry • IKV Doom Song • IKV Doom Sword • IKV Doom Warrior • IKV Doom Wind • IKV Dragon Claw • IKV Dragon Chariot • IKV Dragon Cry • IKV Dragon Fire • IKV Dragon Scale • IKV Dragon Song • IKV Dragon Sword • IKV Dragon Tooth • IKV Fire Air • IKV Fire Angel • IKV Fire Chariot • IKV Fire Cry • IKV Fire Demon • IKV Fire Dog • IKV Fire Dragon • IKV Fire Hound • IKV Fire Lust • IKV Fire Slayer • IKV Fire Song • IKV Fire Starter • IKV Fire Storm • IKV Fire Sword • IKV Fire Warrior • IKV Fire Wielder • IKV Fire Wind • IKV Storm Cry • IKV Storm Chariot • IKV Storm Demon • IKV Storm Dog • IKV Storm Dragon • IKV Storm Slayer • IKV Storm Song • IKV Storm Warrior • IKV Storm Wielder • IKV Storm Wind • IKV War Angel • IKV War Chant • IKV War Chariot • IKV War Cry • IKV War Demon • IKV War Dog • IKV War Dragon • IKV War Hound • IKV War Lust • IKV War Slayer • IKV War Song • IKV War Storm • IKV War Sword • IKV War Wielder • IKV War Wind
F5C-class/F5L-class

frigate leader

(QuD-class bird-of-prey) 

IKV Audacity • IKV Alacrity • IKV Barbarian • IKV Demonfire • IKV Ferocity • IKV Firestar • IKV Glory • IKV Marauder • IKV Urgency • IKV Venom • IKV Axe Leader • IKV Axe Lord • IKV Battle Leader • IKV Battle Lord • IKV Battle King • IKV Blood Leader • IKV Blood Lord • IKV Death Lord • IKV Dragon Leader • IKV Dragon King • IKV Dragon Lord • IKV Doom Leader • IKV Doom Lord • IKV Fire King • IKV Fire Leader • IKV Fire Lord • IKV Storm King • IKV Storm Leader • IKV Storm Lord • IKV War King • IKV War Leader • IKV War Lord
F5Y-class

cloaking frigate

(QuD-class bird-of-prey) 
F5W-class war destroyer (QuD-class bird-of-prey) 

IKV Axe Destroyer • IKV Axe Killer • IKV Axe Soldier • IKV Battle Destroyer • IKV Battle Killer • IKV Battle Soldier • IKV Blood Destroyer • IKV Blood Soldier • IKV Death Destroyer • IKV Doom Destroyer • IKV Doom Soldier • IKV Dragon Destroyer • IKV Dragon Killer • IKV Dragon Soldier • IKV Fire Destroyer • IKV Fire Soldier • IKV Storm Destroyer • IKV Storm Killer • IKV War Soldier • IKV War Destroyer
FWK-class war destroyer (QuD-class bird-of-prey) 

IKV The Destroyer • IKV Axe Killer • IKV Axe Soldier • IKV Battle Destroyer • IKV Battle Killer • IKV Battle Soldier • IKV Blood Destroyer • IKV Blood Killer • IKV Blood Soldier • IKV Death Destroyer • IKV Death Killer • IKV Death Soldier • IKV Doom Destroyer • IKV Doom Killer • IKV Doom Soldier • IKV Dragon Destroyer • IKV Dragon Killer • IKV Dragon Soldier • IKV Fire Destroyer • IKV Fire Killer • IKV Fire Soldier • IKV Storm Destroyer • IKV Storm Killer • IKV War Soldier • IKV War Destroyer • IKV War Killer
FWL-class

war destroyer leader

(QuD-class bird-of-prey) 

IKV Axe Destroyer • IKV Axe Killer • IKV Axe Soldier • IKV Battle Destroyer • IKV Battle Killer • IKV Battle Soldier • IKV Blood Destroyer • IKV Blood Killer • IKV Blood Soldier • IKV Death Destroyer • IKV Death Killer • IKV Death Soldier • IKV Doom Destroyer • IKV Doom Killer • IKV Doom Soldier • IKV Dragon Destroyer • IKV Dragon Killer • IKV Dragon Soldier • IKV Fire Destroyer • IKV Fire Killer • IKV Fire Soldier • IKV Storm Destroyer • IKV Storm Killer • IKV War Soldier • IKV War Destroyer • IKV War Killer
FWC-class

war destroyer leader

(QuD-class bird-of-prey) 

IKV Axe Champion • IKV Axe Chieftain • IKV Battle Champion • IKV Battle Chieftain • IKV Blood Champion • IKV Blood Chieftain • IKV Death Champion • IKV Death Chieftain • IKV Doom Champion • IKV Doom Chieftain • IKV Dragon Champion • IKV Dragon Chieftain • IKV Fire Champion • IKV Fire Chieftain • IKV Storm Champion • IKV Storm Chieftain • IKV War Champion • IKV War Chieftain
Klingon heavy cruisers
[
]
D7-class/D7B-class/D7K-class battle cruiser (K't'inga-class) 

IKV Anarchist • IKV Annihilation • IKV Antagonist • IKV Attacker • IKV Avenger • IKV Challenger • IKV Chieftain • IKV Conqueror • IKV Courageous • IKV Crusher • IKV Decimator • IKV Defiler • IKV Demolisher • IKV Devastator • IKV Devisor • IKV Killer • IKV Klodode • IKV Klothos • IKV Merciless • IKV Nemesis • IKV Pandemonium • IKV Pitiless • IKV Relentless • IKV Ruthless • IKV Sangfroid • IKV Savage • IKV Soul of Vengeance • IKV Thunderchild • IKV Thunderer • IKV Vengeance • IKV Warhammer
D7D-class drone battle cruiser (K't'inga-class) 

IKV Thunderstorm • IKV Hailstorm • IKV Strangler
D7C-class/D7L-class

command battle cruiser

(K't'kara-class/K't'inga-class) 

IKV Dawnslayer • IKV Dareslayer • IKV Darkslayer • IKV Deathslayer • IKV Deedslayer • IKV Deftslayer • IKV Deepslayer • IKV Demonslayer • IKV Devilslayer • IKV Direslayer • IKV Dirkslayer • IKV Dimslayer • IKV Divineslayer • IKV Doomslayer • IKV Doubtslayer • IKV Dourslayer • IKV Dragonslayer • IKV Droitslayer • IKV Dreadslayer • IKV Dreamslayer • IKV Duelslayer
Hydran ships
[
]
Hydran dreadnoughts
[
]
Hydran heavy cruisers
[
]
Hydran light cruisers
[
]
Hydran frigates
[
]
Hunter-class frigate (HN) 

Brazen • Futile Fury • Integry • Sanctity • Vainglory • Valiant • Valorous • Vehement
Hunter-class commando frigate (HNG) 

Vantage • Vapori • Variance • Varlet • Vaunt • Vector • Verisimilitude
Hunter-class war destroyer (DWF) 

Juxirr • Uhla • Vorlan • Yssiss • Wehalk
Cuirassier-class frigate (CU) 

Cat Killer • Cat Slayer • Hullcrusher • Vendetta • Voracious
Rhino Hunter-class war destroyer (DWH) 

Harus • Hylan • Lens • Lepton
Crusader-class

frigate leader

(CRU) 

Hadden • Hakkor • Hiny • Prince Hrakskit
Other Hydran ships
[
]
Lyran ships
[
]
Lyran frigates
[
]
Romulan ships
[
]
Romulan dreadnoughts
[
]
Condor-class dreadnought/advanced dreadnought (CON/CON+) 
Romulan frigates
[
]
Snipe-class frigate (SNA/SNAR/SNB/SNP/SNP+) 
Locations
[
]
Species
[
]
States and Organizations
[
]
Information
[
]
Related Stories
[
]
Images
[
]
Reviews
[
]
External links
[
]