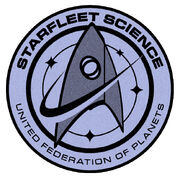 Starfleet Science was the organized leadership of the sciences division of the Federation Starfleet, the leading authority of science pursuits in the organization. (DS9 episode: "The Visitor")
In the 2260s decade, it was overseen by Admiral Weems. It had a staff and budget, with a project workload that increased geometrically due to advancing scientific discoveries.
In 2269, Starfleet Science researchers discovered a suspicious pattern of ship losses occurring every 27.344 star years in the Cicada sector, with an imminent disappearance about to occur. Vice Admiral Julianna van Leeuwenhook assigned the USS Enterprise to investigate. (TOS - Log Two novelization: The Lorelei Signal)
In the year 2373, Starfleet Science concluded that polaron radiation would destabilize the physiology of a Changeling and reveal any impersonating a humanoid as the Changeling would be unable to hold the assumed form. (DS9 episode: "Apocalypse Rising")
In 2374, Starfleet Science assigned Jean-Luc Picard and the crew of the starship USS Enterprise to assist Lem Faal in an attempt to create an artificial wormhole. (TNG - The Q Continuum novels: Q-Space, Q-Zone, Q-Strike)
Community content is available under
CC-BY-SA
unless otherwise noted.