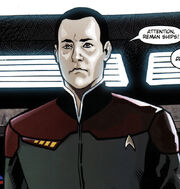 In 2386, Starfleet updated its uniform code and introduced several different uniform styles. The new uniform styles represented a return by Starfleet to a brighter, more noticeable uniform, following the more understated gray-shouldered black uniforms in use from the beginning of the Dominion War.
Although several of the new uniforms resembled a variant style from the 2360s, with division color around the yoke and shoulders, the new uniforms did not feature an undershirt collar for placement of rank insignia. Instead, insignia showing rank were placed on a lapel on the right breast. The new square ranking pin system used the same arrangements as the previous designs to show rank. ST comic: "Countdown"; ST website: The Path to 2409; ST website: Star Trek Online)
The new uniform code also allowed an officer to choose from any previously available uniform. (ST video game: Star Trek Online)
This option is to allow player customization and may not be an actual Starfleet practice.
This style was retired in 2410 in favor of the new "Odyssey" uniform series. (STO website: Starfleet Uniform Code 2410)
Appendices
Connections
External links