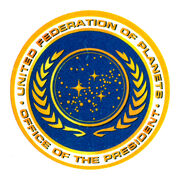 Suessor was a Federation politician in the 23rd century, native to Vulcan.
In the early 23rd century, he served as Federation President, elected in 2208. (FASA RPG module: Star Fleet Intelligence Manual: Agent's Orientation Sourcebook)
The novel Burning Dreams establishes that the Federation President during Vina's early childhood was a female non-Terran, indicating that Suessor or his immediate successor may not take place in the same continuity as most of the current novels featuring the Federation government.
Community content is available under
CC-BY-SA
unless otherwise noted.