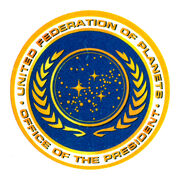 Sukio Hirashito was a female Human politician in the 23rd century.
In 2269, she served as President of the Federation General Council, and that year presided over the Council session addressed by Spock regarding the question of Talin IV's status as a de facto Federation Member State. (TOS novel: Prime Directive)
Prime Directive describes Hirashito as both "this session's Council President," and as "President of the Federation." However, her role as Federation President during this period is contradicted by several sources, including Last Unicorn Games' Star Trek: The Original Series Core Game Book, and the novels Articles of the Federation and the Errand of Fury trilogy.
Council of the United Federation of Planets
Earth representatives
Haroun al-Rashid • Percival Kimbridge • Jonathan Archer • Courtenay Marshall • Indira Bhutto • Petrach Sormassov • Kevin McBride • Matthew Mazibuko
Vulcan representatives
T'Maran • T'Nuri • Sarek • T'Latrek • T'nirea • T'Los • Soron • Sokketh
Andorian representatives
Anlenthoris ch'Vhendreni • Avaranthi sh'Rothress • Thy'lek Shran • Zhimen ch'Rhettel • D'vin Loctrill • Thrandasar v'Elex • Shroom Stonwin • Charivretha zh'Thane • Kellerasana zh'Faila
Tellar representatives
Gralless • Gora bim Gral • F'xaq • Vagak Haggarak • Bera chim Gleer • Kyll
Alpha Centauri representatives
Nasrin Sloane • Sondri Sullivan • Huang Chaoying
Benzar representatives
Melnis • Linzner
Bolarus IX representatives
Min Zife • Nea
Cait representatives
S'rrel • Dynkorra M'Relle
Deltan representatives
LLyanaa • Eleana
Grazer representatives
Jaresh-Inyo • Severn-Anyar • Astoni-Yhard
Trill representatives
Jerella Dev • Jix
Zalda representatives
Samton • Molmaan
Bajoran representatives
Rava Mehwyn • Krim Aldos • Baras Rodirya
Other membership
Alonis: Nerramibus • Antede III: Selora Quintor • Arcturus: Jacob Varis • Ardana: Strovos • Betazed: Cort Enaren • Betelgeuse II: Chuu'iik Hru'uith • Bre'el IV: Nitram • Cestus III: Altoun Djinian • Damiano: Ra'ch B'ullhy • Deneva: Lynda Foley • Djana: Ewu • Efros: Domak Voris • Gemworld: Lari Beltane • Gnala: Gorus Gelemingar • Hermat: Saltroni 815 • Huan: Corices •

Icor IX

: Lyo Morhas • Igre: Gloobsherkpfack • Ithen: Danga Sitru • Izar: Grace Murabi • Janus VI: Sanaht • Koa: Sicarios • Makus III: Konahr Lutet • Mars: Qaletaqu • Chab jav Lorg • Nasat: C29 Green • Ona: Eftheria Lo • Pandril: Govrin • Regulus III: Maria Moi • Rigel Colonies: Kishkik Sajithen • Tomorok • Sauria: S'kaa • Terra Nova: Kevin Steiner • Tiburon: Jard Elbir • Gnizbreg • Triex: Artrin na Yel • Vega IX: Zhi Nu Palmer • Vestios: Lenith Agreho • Other councillors: Lisa abn Dari • Eric Cooper • Corvix • Walter Julliev • Alexis Kindr • Kleeg • Lanugu • Sipak • T'Vorin • Wulkk