For other uses, see Sulu.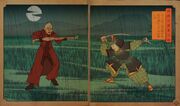 The Sulu family was a Human family originating in Japan on Earth. This family was known for centuries of dedicated service to Starfleet, with many notable officers, including Captain Hikaru Sulu of the USS Excelsior, Demora Sulu of the USS Enterprise-B, and Akira Sulu of Earth Spacedock. (STO - Agents of Yesterday short story: "Steel and Karma")
Sulu Family Genealogy: List
[
]
Sūrū Yoshitaro

, a samurai in 17th century Japan who lived under

Emperor

Higashiyama

.[1]
Hikaru Sulu, uncle of Akira Sulu, lived in the 20th century.
Akira Sulu, nephew of the Hikaru Sulu of the 20th century, great great grandfather of the Hikaru Sulu of the 23rd century.

Tetsuo Inomata

, great grandfather of Hikaru Sulu, exact lineage unknown.
Hikaru Sulu, alternate reality counterpart of Hikaru Sulu.

Ben Sulu

, husband of Hikaru.

Aiko Sulu

, sister of Hikaru.
Yuki Sulu, sister of Hikaru.
Sulu Family Genealogy: Family Tree
[
]
Sulu Family Genealogy: Gallery
[
]
Appendices
[
]
References
[
]