The
T'Liss-class
was a type of
Romulan Star Empire
starship
, a
bird-of-prey
in
Imperial Fleet
service in the
22nd century
.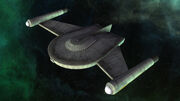 The T'Liss-class ships were in service as combatant vessels during the Earth-Romulan War. Modified versions of these birds-of-prey, fitted with holographic masking systems and telepathic remote devices were used to create remote drone ships. (ENT novel: The Good That Men Do)
The Name T'Liss was also applied to the Romulan Bird-of-Prey (23rd century) vessels.
Connections
External link
Community content is available under
CC-BY-SA
unless otherwise noted.