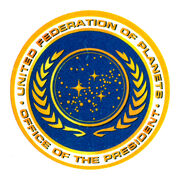 T'Pragh was a Vulcan woman who lived in the 23rd and 24th centuries.
Biography
[
]
T'Pragh served in Starfleet, and later in life entered politics. She was elected President of the United Federation of Planets at some point in the mid-24th century, and was in office during the Tzenkethi War.
The Myriad Universes novel The Chimes at Midnight establishes T'Pragh as a Starfleet admiral in the year 2293 of an alternate timeline. This is not inconsistent with the limited biographical information about the "real" T'Pragh, nor would it seem to conflict with the different facts of the divergent timelines.
T'Pragh died sometime prior to 2380. In the commencement address to the Starfleet Academy graduating class that year, President Nanietta Bacco mentioned T'Pragh as one of the Federation's finest presidents. (ST novel: Articles of the Federation)
Alternate timeline
[
]
In an alternate timeline, Admiral T'Pragh attended a meeting with Federation President Ra-ghoratreii, Thelin th'Valrass, Patrick West, and David Marcus in 2293, where the possibility of deploying of the Genesis Device against Praxis in an attempt to end the Genesis War was discussed. (TOS - Myriad Universes novel: The Chimes at Midnight)
Appendices
[
]
Connections
[
]
Council of the United Federation of Planets
Earth representatives
Haroun al-Rashid • Percival Kimbridge • Jonathan Archer • Indira Bhutto • Petrach Sormassov • Kevin McBride • Matthew Mazibuko
Vulcan representatives
T'Maran • T'Nuri • Sarek • T'Latrek • T'nirea • T'Los • Soron • Sokketh
Andorian representatives
Anlenthoris ch'Vhendreni • Avaranthi sh'Rothress • Thy'lek Shran • Zhimen ch'Rhettel • Thrandasar v'Elex • Shroom Stonwin • Charivretha zh'Thane • Kellerasana zh'Faila
Tellar representatives
Gralless • Gora bim Gral • F'xaq • Vagak Haggarak • Bera chim Gleer • Kyll
Alpha Centauri representatives
Nasrin Sloane • Sondri Sullivan • Huang Chaoying
Benzar representatives
Melnis • Linzner
Bolarus IX representatives
Min Zife • Nea
Cait representatives
S'rrel • Dynkorra M'Relle
Deltan representatives
LLyanaa • Eleana
Grazer representatives
Jaresh-Inyo • Severn-Anyar • Astoni-Yhard
Trill representatives
Jerella Dev • Jix
Zalda representatives
Samton • Molmaan
Bajoran representatives
Rava Mehwyn • Krim Aldos • Baras Rodirya
Other membership
Alonis: Nerramibus • Antede III: Selora Quintor • Arcturus: Jacob Varis • Ardana: Strovos • Betazed: Cort Enaren • Betelgeuse II: Chuu'iik Hru'uith • Bre'el IV: Nitram • Cestus III: Altoun Djinian • Damiano: Ra'ch B'ullhy • Deneva: Lynda Foley • Djana: Ewu • Efros: Domak Voris • Gemworld: Lari Beltane • Gnala: Gorus Gelemingar • Hermat: Saltroni 815 • Huan: Corices •

Icor IX

: Lyo Morhas • Igre: Gloobsherkpfack • Ithen: Danga Sitru • Izar: Grace Murabi • Janus VI: Sanaht • Koa: Sicarios • Makus III: Konahr Lutet • Mars: Qaletaqu • Chab jav Lorg • Nasat: C29 Green • Ona: Eftheria Lo • Pandril: Govrin • Regulus III: Maria Moi • Rigel Colonies: Kishkik Sajithen • Tomorok • Sauria: S'kaa • Terra Nova: Kevin Steiner • Tiburon: Jard Elbir • Gnizbreg • Triex: Artrin na Yel • Vega IX: Zhi Nu Palmer • Vestios: Lenith Agreho • Other councillors: Lisa abn Dari • Eric Cooper • Corvix • Walter Julliev • Alexis Kindr • Kleeg • Lanugu • Sipak • T'Vorin • Wulkk
Background
[
]
Geoff Trowbridge, the author of The Chimes at Midnight, has confirmed that T'Pragh of the alternate timeline is intended to be the same character mentioned in Articles of the Federation.
Appearances and references
[
]