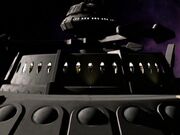 T'Pril's was an establishment on Deep Space 9's Promenade which served Vulcan cuisine.
History and specifics
[
]
T'Pril's was especially popular in the morning, with the effect of losing Quark several of his breakfast clientele in 2376. (DS9 - Avatar novel: Book One)
In 2383, Kira Nerys asked Prynn Tenmei if she wanted to dine with her in T'Pril's. (ST - Typhon Pact novel: Plagues of Night)
T'Pril's was presumably operated by a Vulcan named

T'Pril

. It may be the Vulcan restaurant mentioned in "Indiscretion". T'Pril was a character in Star Trek: The Experience and in the novel Elusive Salvation.
Appendices
[
]
Connections
[
]
References
[
]