For other uses, see Talon.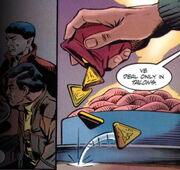 The Talon was a monetary unit of exchange within the Klingon Empire colonies in the late 23rd century. It was a gold colored triangle shaped coin with the emblem of the Klingon Empire on one side.
While trying to track down James T. Kirk and the USS Enterprise-A, Pavel Chekov used the talon on Prestor V to buy information. (TOS novel: The Ashes of Eden) (TOS comic: "The Ashes of Eden")
Community content is available under
CC-BY-SA
unless otherwise noted.