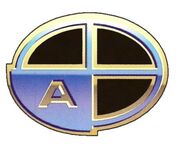 Tarazed (also known as Gamma Aquilae or 50 Aquilae) is a star system in Klingon Empire space, located in the galaxy's Alpha Quadrant.
History and specifics
The Tarazed system's orbit was the location of a planetary system with at least one orbiting world, Tarazed Prime. (ST video game: Starfleet Command III)
No history or specifics are established for this location in Starfleet Command III, as its name was arbitrarily selected for a Klingon system on the game map by the game software, with random attributes.
System makeup
Appendices
Connections
Alpha and Beta Quadrant stars and star systems (G)
Gakora • Galagos • Galar • Galina • Galiul • Gallonik • Gallos • Galon • Galox • Galway • Gamma 400 • Gamma 7A • Gamma Alpha • Gamma Amar • Gamma Argus • Gamma Arietis • Gamma Caius • Gamma Chrysalis • Gamma Delta • Gamma Demetrius • Gamma Emerata •

Gamma Hromi

• Gamma Kestra • Gamma Llongo • Gamma Meridien • Gamma Omicron • Gamma Tarses • Gamma Trianguli • Gamma Trixis • Gamma Vertis • Gamma Xaridian • Gamma Ysalis • Ganarra • Ganiel • Ganidra • Ganiez • Garis • Garlath • Garr • Garriat • Gaspar • Gasiox • Gazior • Gealan • Gekiax • Gelok • Gelrak • Gemet • Gemon • Genovese's Star • Gentariat • Geres • Geries • Gesium • Gesok • Geziul • Gezon • Ghandi • Ghar • Ghomba • Ghondr • Gila • Giriel • Gixiak • Gobi • Golgotha • Goliardh • Golumbin 699 • Gombara • Gonal • Gorak • Gorla • Gorsach • Gowok • Gradientes • Graf • Grenfil • Greshik Tyrr • Gribbin • Grisellan • Griswald 3489 • Guldammur • Gunarp
Alpha Quadrant stars and systems (G)
Galador • Gallina • Gamma Andromedae • Gamma Aquarii • Gamma Aurigae • Gamma Capricorni • Gamma Coronae Borealis • Gamma Cygni • Gamma Draconis • Gamma Lyrai • Gamma Ophiuchi • Gamma Persei • Geilod • Gemma • Gemulon • Gentara • Goralis • Gotanna • Great Pulsar • Grevven • Grovran • Gulvaria
Beta Quadrant stars and systems (G)
Gacrux • Gains • Galorndon Core • Galdonterre • Gamma Crateris • Gamma Crucis • Gamma Eridani • Gamma Eridon • Gamma Geminorum • Gamma Hydra • Gamma Leporis • Gamma Mensae • Gamma Orionis • Gamma Pavonis • Gamma Scorpii • Gamma Tucanae • Gamma Xertia • Gamma Zeta 4 • Ganalda • Garadius • Garag • Gasko • Gateway • Gideon • Glintara • Gomeisa • Goran • Gorath • Gorn • Gornar • Gotara • Gr'oth
References
External link