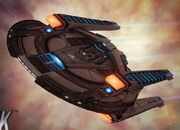 Starfleet rapid response task force 13-47 was a 25th century Federation military unit, a squadron-sized rapid response task force in Starfleet service in the 2410s decade. The task force flagship was the USS Phobos. (STO Issue 09: "USS Europa")
Service history and disposition
[
edit
|
edit source
]
Starfleet Tactical Command, a branch of Starfleet Command, formed Task Force 13-47 as a typical example of an ad-hoc reaction force. It could be deployed to a variety of galactic hotspots.
In the year 2410, the Europa-class heavy battlecruiser Europa was assigned to lead TS547 during its mission around Khitomer. (STO Issue 09: "USS Europa")
In 2411, soon after the Shattering of the Klingon Empire, several ships from this task force were docked at Earth Spacedock. The USS Hercules, USS Marotz, USS Shirgat and USS Phobos were visible from the Starfleet Shipyard Operations window, and their names and silhouettes displayed on a docking chart in Fleet Admiral Jorel Quinn's office. (STO - Shattered House mission: "Welcome to Earth Spacedock")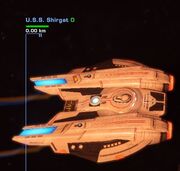 Appearances and references
[
edit
|
edit source
]
STO Issue 09: "USS Europa"
Community content is available under
CC-BY-SA
unless otherwise noted.