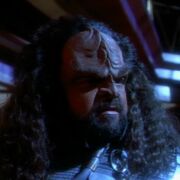 In the mirror universe, Telok was a Klingon warrior in the service of the Klingon-Cardassian Alliance during the late 24th century.
He served as a guard in the House of Duras for four years until he left, tired of the unpredictability of Lursa and B'Etor.
In 2370, he was serving on Terok Nor under the command of Intendant Kira Nerys of Bajor when her counterpart Major Kira Nerys and Doctor Julian Bashir crossed over from the primary universe. (DS9 episode: "Crossover")
It is unknown if Telok has a counterpart in the primary universe.
Connections
Edit
External link
Edit
Community content is available under
CC-BY-SA
unless otherwise noted.