In the mirror universe, the Terra Victor was a Terran starship, a Defiant-class warship in Terran Rebellion service in the 2370s decade. Captain Kasidy Yates served as commanding officer during the ship's brief service.
Service history and disposition
After the Terran Rebellion built their own version of the USS Defiant from the primary universe in the year 2372, Generals Julian Bashir and Zek turned the abandoned Klingon-Cardassian Alliance space station Empok Nor into a shipyard capable of producing up to twelve Defiant-class starships at once. Like the rest of the Defiant-class warships, the Terra Victor was equipped with a Romulan Republic cloaking device.
In late 2375, former intendant of Bajor, Kira Nerys, was able to trace the Rebellion's activities to Empok Nor. The Rebels rushed their warships into service when the approached of the IKS Ya'Vang was detected.
On stardate 52902.0[1], the Rebel leaders placed the Terra Victor under the command of Captain Kasidy Yates. Her crew included Tahna Los, Sarina Douglas, Sakonna and Reese. In the ensuing battle, the warships at Empok Nor were destroyed by the Ya'Vang, and the Terra Victor was lost with all hands. (DS9 - Mirror Universe novel: Saturn's Children)
Crew manifest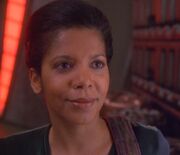 Appendices
Connections
Appearances and references
Appearances
References