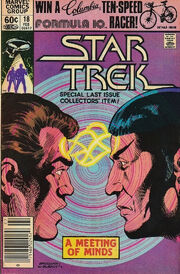 Terry Austin (1952 - ) is an American comic book inker and cover artist. He inked one TOS cover and drew an unused cover while at Marvel Comics. He has inked character portraits of Spock and Harry Mudd, and also inked portions of one TOS story.
Austin served as fellow Star Trek artist John Byrne's longtime inker on Marvel's X-Men. He has inked Green Lantern and Legion of Super-Heroes stories, featuring characters that have crossed over into the Star Trek universe.
He also wrote and inked a comics adaptation of Alan Dean Foster's Star Wars novel Splinter of the Mind's Eye and inked five issues of Carmine Infantino's Marvel Star Wars.
Star Trek bibliography

[

]
Peter Pan Records
[
]
Marvel Comics
[
]
DC Comics
[
]
Appendices
[
]
External links
[
]