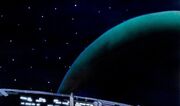 Tessik is a settlement on the planet Bajor.
History and specifics
In the year 2376, Jake Sisko visited Tessik, where he was informed that he should next visit Yyn. (DS9 - Worlds of DS9 novel: Bajor: Fragments and Omens)
Given context in Fragments and Omens, it is likely that Tessik is in Kendra Province.
Appendices
Connections
References