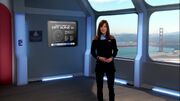 Starfleet Academy SCISEC Brief 010: Thalaron Radiation is a short episode in the DVD Extra series of Starfleet Academy SCISEC Briefs. In this episode, an unnamed Starfleet Science Officer recounts the effects of Shinzon's use of thalaron radiation.
Referenced only 
Referenced only 
Type-6 shuttlecraft • Type-11 shuttlecraft • Type-15 shuttlepod • Unnamed Federation shuttlecraft classes#24th century

Referenced only 
Community content is available under
CC-BY-SA
unless otherwise noted.