"The Ascent" was the 107th episode of Star Trek: Deep Space Nine, the 9th episode of the show's fifth season, first aired during the week of 25 November 1996. The episode was written by Ira Steven Behr and Robert Hewitt Wolfe and directed by Allan Kroeker.
Odo and Quark are stranded on a desolate world and must hike to higher ground to send a distress call; Nog returns to Deep Space 9 from Starfleet Academy.
References
Edit
Characters
Edit
Locations
Edit
Referenced only 
Starships and vehicles
Edit
USS Defiant (Defiant-class escort) • USS Rio Grande (Danube-class runabout) • Janitza-class (in opening credits) • USS Leeds (Nebula-class explorer, in opening credits)
Races and cultures
Edit
Referenced only 
States and organizations
Edit
Referenced only 
Other reference
Edit
anodyne circuit • barracks • beetle • blood • blood screening • cadet • card game • class L • cold weather suit • cremation • customs • dabo • distress signal • Divine Treasury • dom-jot • environmental control • Ferengi death ritual • field ration • field study • fizzbin • gym • holosuite • intravenous therapy • latinum • navigational array • Odo's bucket • orange juice • pajamas • Past Prologue • penal colony • replicator • root beer • slug • snail • snail juice • solid • sonic shower • sophomore • Starfleet uniform • Starfleet uniform (2366-2373) • subspace transmitter • transporter • transporter buffer • travois • Vorian pterodactyl • Vulcan Love Slave • worm
Appendices
Edit
Related media
Edit
ST reference: Encyclopedia

Information about this episode is presented consistently in the third and fourth volumes.
Video releases
Edit
Background
Edit
Notable cast and crew
Edit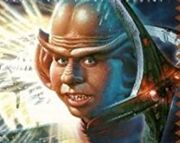 Episode images
Edit
Adaptation images
Edit
Connections
Edit
External links
Edit
Community content is available under
CC-BY-SA
unless otherwise noted.