"The Begotten" was the 110th episode of Star Trek: Deep Space Nine, the 12th episode of the show's fifth season, first aired during the week of 27 January 1997. The episode was written by René Echevarria and directed by Jesús Salvador Treviño.
Odo works with Doctor Mora when he is given a young Changeling by Quark; Kira Nerys goes into labor.
References
Edit
Characters
Edit
Starships and vehicles
Edit
Danube-class runabout (in opening credits) • USS Defiant (Defiant-class escort, in opening credits) • Janitza-class (in opening credits) • USS Leeds (Nebula-class explorer, in opening credits)
Locations
Edit
Races and cultures
Edit
Bajoran • Changeling • Ferengi • Human • Klingon
Referenced only 
States and organizations
Edit
Referenced only 
Other references
Edit
Alvanian spine mite • champagne • constable • cytoplasm • electrophoretic diffuser • endorphin • Filian python • First Minister of the Republic of Bajor • holosuite • isotope • labor • latinum • medical tricorder • morphogenic matrix • Orion slave girl • pregnancy • prune juice • shapeshifter • Starfleet uniform • Starfleet uniform (2366-2373) • Tarkalean hawk • tetryon radiation • thumbprint
Appendices
Edit
Related media
Edit
Video releases
Edit
Background
Edit
Notable cast and crew
Edit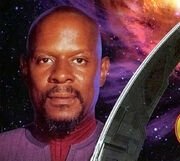 Episode images
Edit
Adaptation images
Edit
Connections
Edit
External links
Edit
Community content is available under
CC-BY-SA
unless otherwise noted.