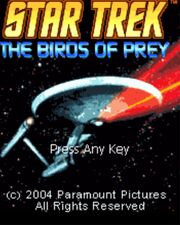 Star Trek: The Birds of Prey is a 2004 vertical arcade-style shooter game for mobile phones developed by Jumbuck Corporation.
Summary
The player takes command of the USS Enterprise, flying in combat against familiar enemies from Star Trek: The Original Series including Klingons and Romulans, contending with wormholes and giant planet-based cannons, and negotiating dangerous asteroid fields and solar flares.
The game won "Best Action Game" at the Second Annual Wireless Gaming Awards at CTIA WIRELESS 2005 ("the Mobies").
References
Starships and vehicles
Locations
States and organizations
Appendices
Images