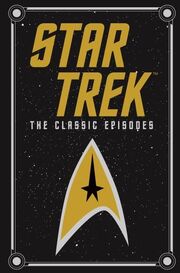 Star Trek: The Classic Episodes is a collected edition of a selection of the TOS novelizations produced by Bantam Books in the 1970s. The collection, a leatherbound hardback, was released in April 2016 to mark the 50th anniversary of Star Trek, and includes an introduction by TOS episode: "The Doomsday Machine" writer, Norman Spinrad.
Description
These are the voyages of the starship Enterprise.

Star Trek boldly traveled across outer space and into the heart of the Human condition. Star Trek: The Classic Episodes collects forty-five classic episodes that aired in the program's first three seasons, all adapted by James Blish and J.A. Lawrence from scripts by Robert Bloch, Harlan Ellison, Richard Matheson, Theodore Sturgeon, David Gerrold, and other leading science-fiction writers.
This 50th anniversary collection includes classic episodes beloved by all Star Trek fans, including "Amok Time", "The Doomsday Machine", "The Trouble with Tribbles", "A Piece of the Action", and

Hugo Award

winners, "The City on the Edge of Forever" and "The Menagerie". And of course it features all of your favorite Star Trek characters: Kirk, Spock, Uhura, Doctor McCoy, Scotty, Sulu, and Chekov.
Contents