"The Darkness and the Light" was the 109th episode of Star Trek: Deep Space Nine, the 11th episode of the show's fifth season, first aired during the week of 6 January 1997. The episode was written by Bryan Fuller and Ronald D. Moore and directed by Michael Vejar.
When the members of the Shakaar resistance cell are murdered, Kira Nerys risks her life to find the person behind the deaths.
References
Edit
Characters
Edit
Julian Bashir (changeling) • Brilgar • Jadzia Dax • Furel • Jones (Lieutenant) • Kira Nerys • Latha Mabrin • Lupaza • Nog • Miles O'Brien • Odo • Silaran Prin • Quark • Benjamin Sisko • Trentin Fala • Worf • Deep Space 9 personnel (Deep Space 9 residents)
Referenced only 
Locations
Edit
Referenced only 
Starships and vehicles
Edit
USS Defiant (Defiant-class escort) • USS Rio Grande (Danube-class runabout) • USS Leeds (Nebula-class explorer, in opening credits)
Races and cultures
Edit
Bajoran • Cardassian • Changeling • Ferengi • Human • Klingon • Trill
States and organizations
Edit
Referenced only 
Other references
Edit
Bajoran earring • beritium • black market • Days of Atonement • diamide • Ferengi Rules of Acquisition • gul • hologram • hunter probe • integration matrix • latinum • makara herb • merfadon • Occupation of Bajor • phase-divergent carrier wave • polaron • plasma charge • remat detonator • replicator • Saurian brandy • sinoraptor • skimmer • sneeze • starbase • Starfleet uniform • Starfleet uniform (2373-2386) • subspace antenna • tongo • transporter • tricorder • vedek
Appendices
Edit
Related media
Edit
ST reference: Encyclopedia

Information about this episode is presented consistently in the third and fourth volumes.
Video releases
Edit
Background
Edit
Notable cast and crew
Edit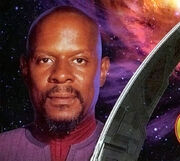 Connections
Edit
External links
Edit
Community content is available under
CC-BY-SA
unless otherwise noted.